Milestone birthdays are something worth celebrating. And when you steer a company that plans and caters parties for other people, you know how to celebrate in style. When Anoush Banquets' CEO Vrej Sarkissian took over the
Glenoaks Ballroom
to host 200 people in honor of his 40th birthday, that style was hard to miss.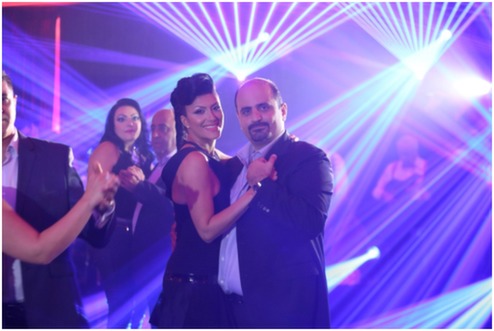 Vrej's wife Ani Keshishian transformed the already elegant
ballroom in Glendale CA
to reflect the guest of honor's personality, draping the walls and ceiling, and bringing in black carpets and a gleaming black dance floor. Ani created a lounge in half of the room, and placed five long rows of transparent Plexiglas tables and chairs to extend throughout the other half for seating reminiscent of a royal banquet.Red roses were everywhere: 4,000 of them massed in high and low arrangements down the centers of the tables.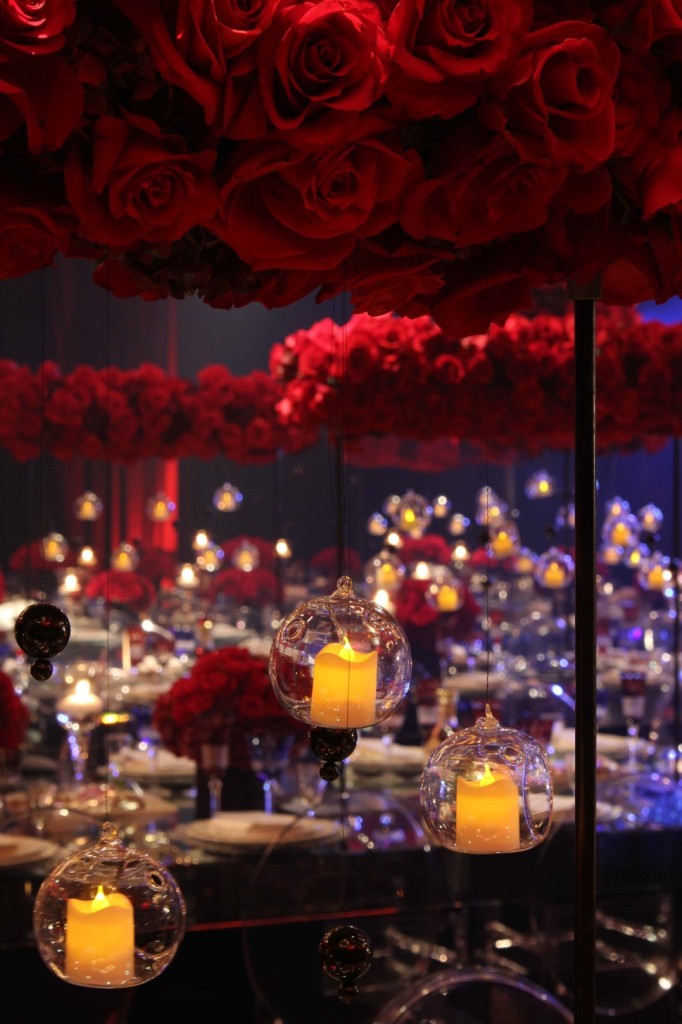 Candle light shone from floating votives in tall crystal holders and from pillars in suspended glass bubbles.The whole feel of the event was completely magical.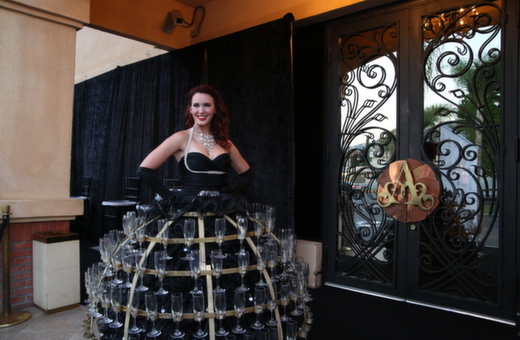 A server dressed as a champagne table set the festive mood and welcomed guests as they entered.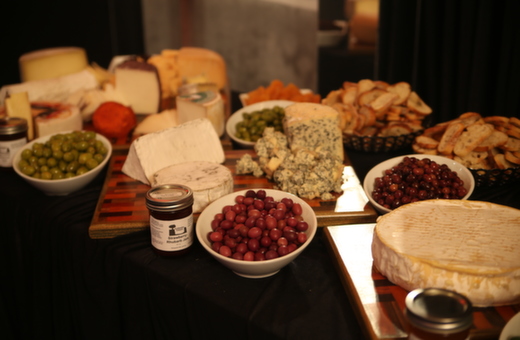 Inside the ballroom, the array of appetizers prepared by Anoush's chefs was dizzying.Among the tray-passed specialties were lobster skewers with watermelon and feta cheese, tuna tartare with cucumber and sesame seeds, fig bouche with Gorgonzola mousse, beef sliders with sharp cheddar and onion jam on brioche, and ceviche toast points served with cucumber gazpacho shooters. Served table-side were risotto croquettes with saffron aioli, flank steak skewers with Peruvian chimichurri, chicken satay with coconut-peanut dipping sauce, and mini cheese beoreks.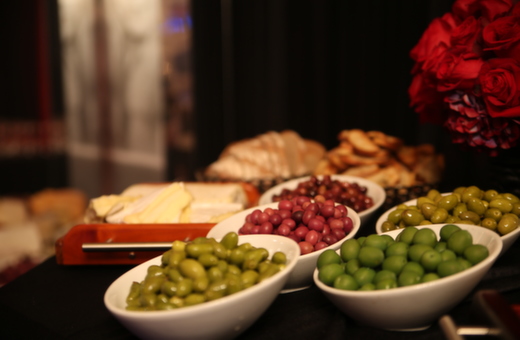 A magnificent display of European cheeses and charcuterie was surrounded by fresh fruits, nuts, and breads, and yet another display offered Mediterranean, French, Spanish, and California-style olives. As if those weren't enough, there was also eggplant caviar, hummus, baba ghanouj, mouhammara, kimchee, and tzatziki.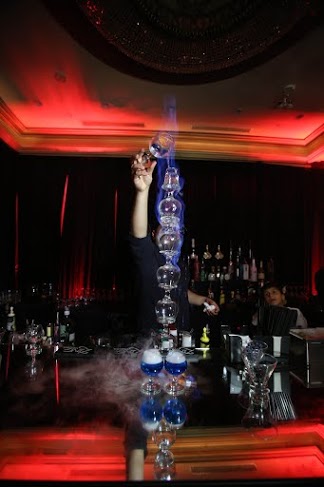 In the cocktail area, the stunning,mirrored bar featured flaming alcohol shots and a full selection of premium liquor, including Anoush Signature Cognac.
Poster-size photographs of Vrej as a child lined the walls in mirrored frames. Every surface reflected light and added to the magical feel of the evening. And just when the guests thought there simply couldn't be any more food in the Anoush kitchen, dinner was served:Waldorf salad with figs, green apples, goat cheese, candied pecans and balsamic vinaigrette, followed by lamb chops and kabobs of chicken, beef, shrimp, and vegetables, all served by the
best catering service in Glendale CA
.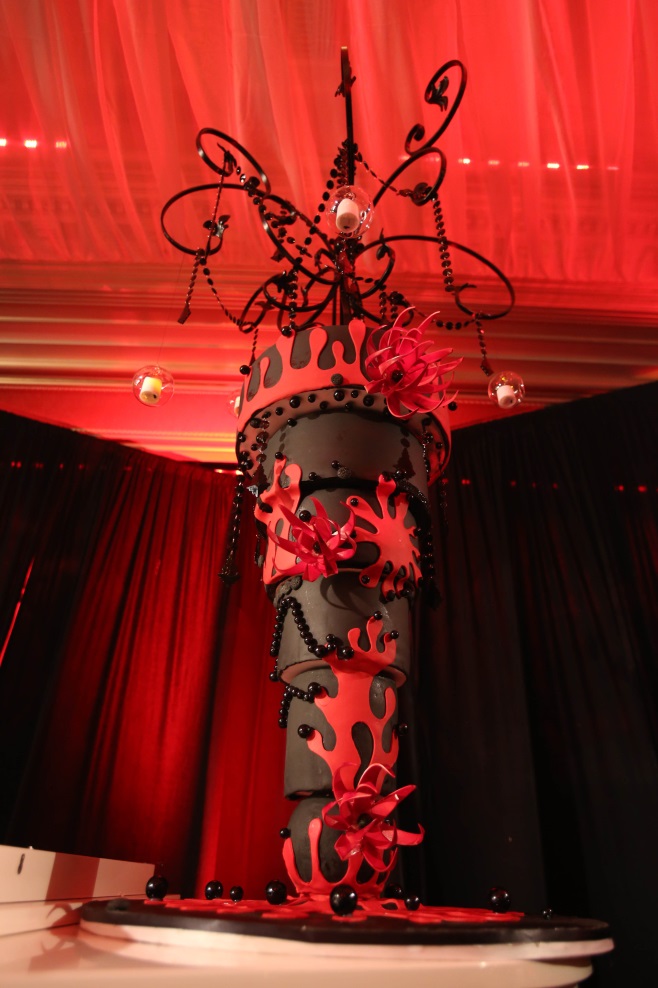 Then,an astonishing and strikingly decorated five-tier upside-down birthday cake was presented, and Vrej blew out the candles as family, friends, and the entire L.A. Banquets and Anoush Catering staff cheered.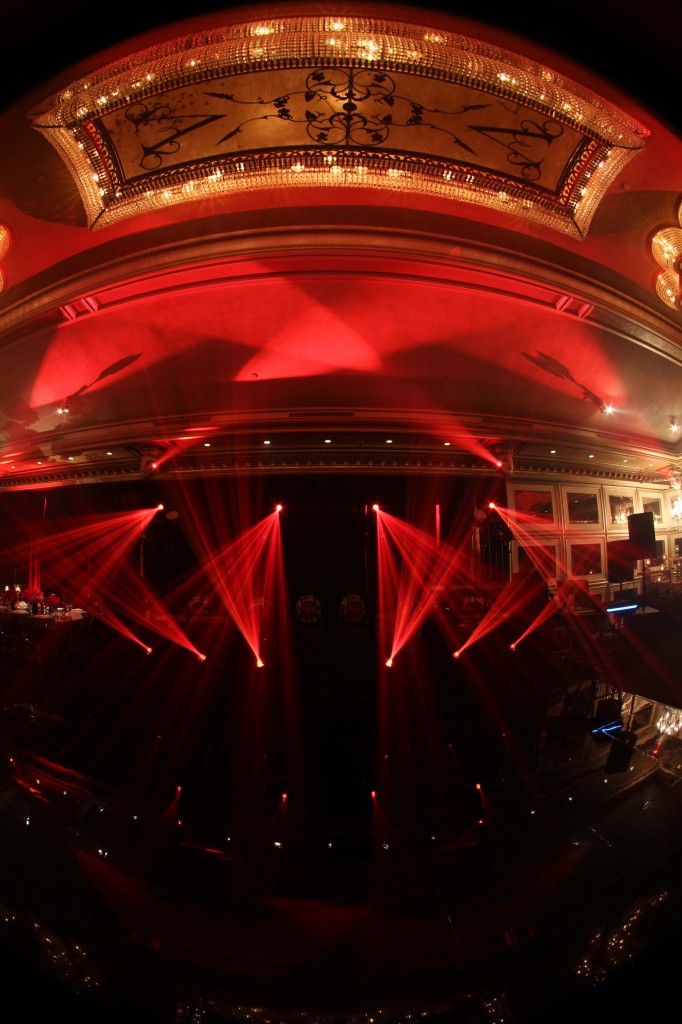 Renowned Armenian singer Tigan (Tiko) Asatryan entertained to accompaniment from his six-piece band as guests took to the dance floor under dramatic red laser lights.Everyone was having such a wonderful time that the party went on until the wee hours of the morning. It was an extraordinarily special night for Vrej because he and his beautiful wife Ani were married in the Glenoaks Ballroom in 2002, and it was also in that room that they celebrated the christenings of their children. We wish them many more joy-filled occasions to share. Check out this sensational time-lapse view of the party from start to finish: httpss://www.youtube.com/watch?v=a9b9z6zqSgk&feature=youtu.be