Other than wedding favors, what's the one thing that your guests take home with them? Memories. After your big day, your guests will smile as they remember the great time they had on the dance floor. Or the hilarious speech that your cousin made. Or the way your dress glittered under the beautiful lighting as you entered the ballroom. And of course, you want them to remember the savory dinner and desserts you hand-selected for the occasion.
Since catering will be one of your more significant wedding expenses, you want to make sure that you're getting exactly what you're looking for. Here are a few questions to consider during the planning process that will ensure satiated palates and happy guests.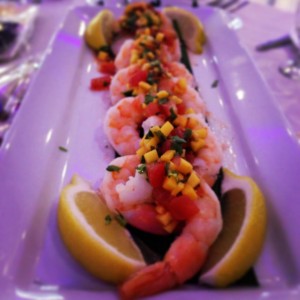 1) How many quests will be attending?
Request RSVPs earlier than you think you need to. If some guests don't respond, follow up with a phone call. Keep in mind that some guests may not show up on the big day, due to illness or other last-minute conflicts. Figure out a "safe maximum number" by adding the confirmed RSVPs with the guests who are still "maybes."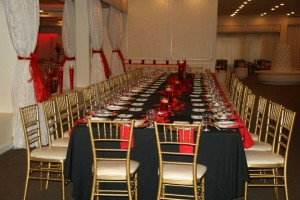 2) What time of day is the reception?
What time do you anticipate sitting down for the meal? Is it late afternoon, early evening, or late night? Also be aware that during the big day, any number of factors can cause things to fall a bit behind schedule, so you may end up eating a little later than planned. Guests may not want a rich, heavy, succulent entrée super late at night, but would likely be hungry after a long daytime ceremony.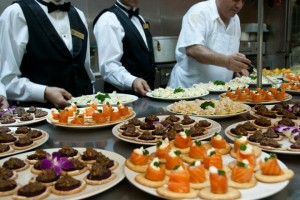 3) Will you have any special requests?
Do you have any family members with food allergies or special dietary needs? Find out these details as early as possible so that when you're creating the menu, you'll be equipped with this knowledge. The last thing you want is for your uncle to have a massive allergic reaction to shellfish during the reception.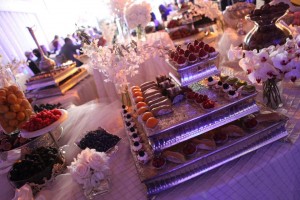 4) What will your décor look like?
Though this may seem like a detail that doesn't relate to your catering plans, let us assure you, it does. Does your wedding have a theme? Have you thought about what kinds of colors, textures, and decorations you're going to incorporate? Here at Anoush, we love creating food displays that seamlessly match your reception decor.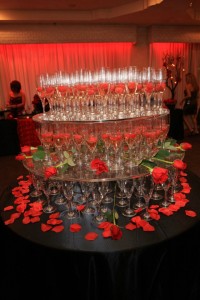 5) What type of service makes sense for your wedding?
Envision your ideal reception. Are you picturing shared platters and passed plates? Or a timed hand-served dinner? How about trays of scrumptious food at a buffet? Think about whether you prefer the timing for your service to be precise, or more open and flexible.
Knowing these details ahead of time will make for an easy and smooth catering planning process!