by Vrej Sarkissian, CEO of Anoush Catering
Last time, we embarked on a tour to discover the herbs and spices that flavor the variety of cuisine found around the Mediterranean Sea. We journeyed from France to Turkey to the Middle East where we pick up our journey today for the second half of our voyage.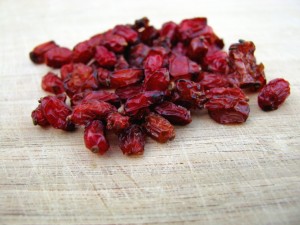 Barberries (Zereshk)
We're traveling a bit inland from the Mediterranean, but it's a detour worth making for this tiny ruby-like berry. The berries were once widely consumed throughout Europe, but they are now most popular in Iran, where they shine in rice dishes. With a tart, fruity flavor reminiscent of cranberries, they make a great addition to stuffings, savory salads, and poultry dishes.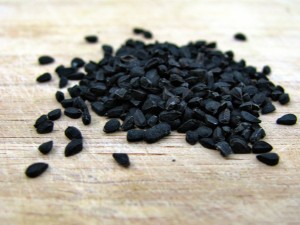 Nigella Seeds
Another Middle Eastern favorite, and easily mistaken for black sesame seeds, these little seeds from the nigella satvia flower are also sometimes mistakenly referred to as black cumin, black caraway or black onion seeds. Sprinkled on breads, cookies, and cheese, nigella seeds add a slightly bitter, nutty, and peppery flavor. They're also a wonderful topping on salads, yogurt and hummus. And if its wide use in culinary applications wasn't enough, nigella seeds also have medicinal properties in treating various ailments and disease.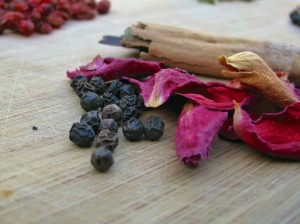 Tunisian Baharat
A few thousand miles across the Mediterranean from Turkey, we find another version of baharat. But this mixture is as simple as it is wildly different from the Turkish version above: dried rose petals, cinnamon, and black pepper. Tunisians use this mixture to add a bit of floral kick to meat and savory dishes.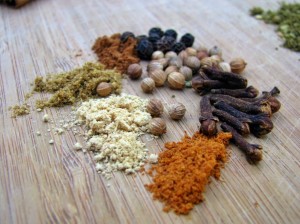 Ras el Hanout
Moroccan Ras el Hanout combines aromatic spices for a mix that packs tongue-tingling heat. Ginger, cayenne, black pepper, cinnamon, coriander and cloves are just some of the spices used in this blend that can feature up to 30 separate ingredients. The mix takes its name from an Arabic phrase that roughly translates to "top of the shop," meaning the highest quality items in the spice merchant's shop. Use it to add a deep spicy flavor to a classic Moroccan tagine.
The Anoush Catering spice tour around the Mediterranean ends here in Morocco, but our culinary adventures continue...