Food is one of the most important parts of your wedding celebration. Choosing what to serve, deciding on a serving style and creating a pleasing presentation all take a lot of work, and wedding planning is already a big job. It's common for couples to leave the bulk of the task to a caterer, but do the benefits outweigh the potentially hefty price tag?
Types of Wedding Caterers to Consider
As you begin to look into the possibility of having your wedding catered, you'll find several service options available. Each one provides a different combination of amenities and has a cost appropriate to the scope of the services:
Full service provides not only a full spread of food but also a bartender, alcohol, coffee, lighting, tables, chairs and place settings. The cake or a dessert menu may be offered, and many also include setup and cleanup services.
Traditional caterers prepare, set up and serve food. They may or may not handle tables and place settings, and other services are likely to cost extra.
Restaurants may be amenable to hosting wedding receptions, serving food already on their menus and providing a bartender and waitstaff.
Food trucks are a new trend in wedding catering, making it easier to provide a variety of options to guests without worrying about food preferences or the need for onsite kitchen facilities. However, no seating, table settings, drinks or desserts are included if you choose this option.
In-house caterers are included as part of the package deals offered by wedding venues. Although these caterers are often cheaper than hiring third-party professionals, you may be limited in types of food you're able to offer to your guests.
Preferred caterers expand options beyond a single in-house service but still limit you to the vendors with whom a venue works. The venue may charge an extra fee should you decide to hire someone who isn't on the list.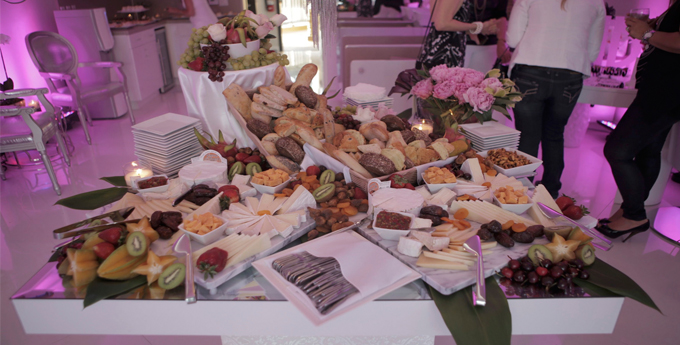 To Splurge or Not to Splurge?
Think about all the time and effort involved in food preparation just for a holiday party or your annual neighborhood barbecue. Imagine how much more would be involved if you tried to do the same thing for your entire wedding party. Even a basic catering service will take care of a number of planning, organizational and presentation tasks, leaving you free to focus on other aspects of the wedding. Some couples consider the price tag associated with catering and decide DIY food is a better option because it appears to be cheaper. However, when it comes to catering, it's not all about counting the cost. DIY may be less expensive by the numbers, but you have to consider the trade-offs when deciding whether or not the savings are worth the added work and potential complications.
The Challenges of DIY Food
When considering the DIY route, you should be aware not all venues allow you to handle your own food preparation and setup. Those with in-house or preferred catering options are unlikely to be amenable to outside food and drink and may not rent you the space if doing so is your intention. This could prove to be a challenge if you have your heart set on a particular venue but are also unsure you want to utilize a professional caterer.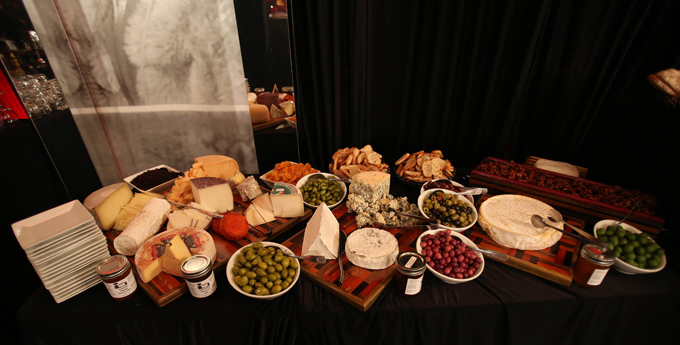 If your venue is open to DIY food, you have to choose whether to self-cater or recruit people in the wedding party for a potluck. In self-catering, everything is up to you, including:
Tables, seating and place settings
Making the food
Transporting finished dishes
Setup, tear down and cleanup
Drinks and bar staff
Attending to all the details requires at least one person to act as coordinator or "head chef" and a team of friends and family members willing and able to prepare the desired dishes. Deciding on a potluck distributes the duties a bit more evenly, but both options still require you to figure out how to keep food hot or cold before and during the reception and to work out a way to package up any leftovers. Going DIY with your wedding catering also means planning and executing a meticulous timeline for preparation, delivery, setup and serving. The larger your guest list, the more difficult the task becomes. If you're not good at delegating, you could quickly find yourself overwhelmed by the details.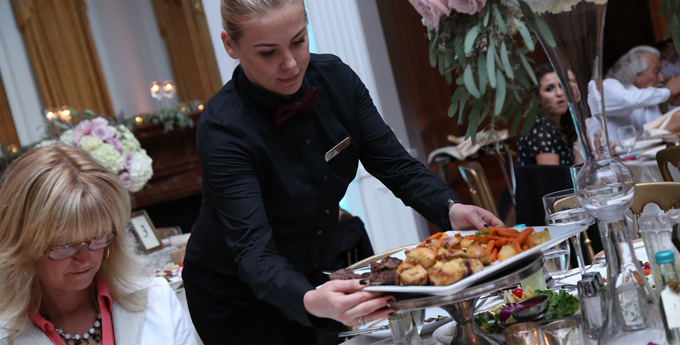 Biggest Catering Benefits
The price of catering seems more reasonable in light of all the behind-the-scenes work involved in pulling off the perfect spread for your wedding. Less stress for you, your groom and your wedding party is just one of the benefits you get when you let a caterer handle the food. Consider these additional perks:
High-quality food prepared by experienced chefs
A wide selection of cuisines and dishes to choose from
Multiple options for meal and serving styles
Beautiful presentation
Professional waitstaff
Help with menu planning and meal selection
Choice of whether or not to offer alcohol
Someone else to handle setup and cleanup
Easier to feed large crowds
No worries over whether enough food will be available
Assurance of food safety and cleanliness of facilities
Savings in the form of service packages
When weighing these benefits against the potential cost savings of DIY catering, remember wedding food is more than just something for guests to nibble on while mingling. It's part of the whole experience of the wedding and should be thought of as an element of the theme. Bad food, an untidy setup or a lack of professionalism from wait staff can leave your guests with a poor impression of the celebration instead of giving everyone a memorable day.
How to Have a Positive Catering Experience
Because of the tremendous amount of extra work involved in attempting to feed an entire wedding party on your own, wedding planners and planning experts generally recommend hiring a professional caterer. You want the best possible service to ensure your wedding goes off exactly the way you imagine it, and this means putting in the work required to find a caterer with the experience, tools and creativity necessary to meet your expectations.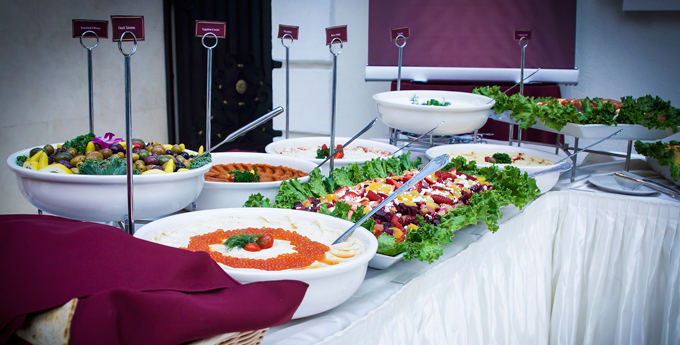 Finding the Options You Want
Some caterers are more limited than others in the menu options they offer and the services they provide. The first step in finding a good match is to know exactly what you desire for your wedding, from the way you want the tables to look to specific dishes prepared to please even your pickiest relatives. If your venue has a list of preferred caterers, start there. If not, get recommendations from friends, family members or business colleagues who have used local catering services for big events in the past. Narrow your choices down to those offering or specializing in wedding services before hitting the internet to read reviews. Reviews are critical in today's customer-focused market, especially when it comes to service providers. Reading about the experiences other couples had with particular catering services helps you weed out any unreliable or untrustworthy companies and gives you an idea of the quality you can expect when it comes to the food. Visit the websites of the best caterers in your area to assess the services they provide. Will they cut the cake, pour champagne for the toast or offer coffee? Are any services you know you want or need missing from their offerings? Don't forget to check for policies relating to food allergies and special diets. Some caterers make provision for these considerations, but others charge an additional fee for special meals.
Choosing a Caterer
Just like with any other vendor or service you choose for your wedding, you need to set aside time to interview potential caterers. Contact the top choices on your list, and be sure to ask about:
Licensing to confirm compliance with health department standards
Liquor license and liability insurance if alcohol will be served
Additional costs for bartending services and drinks, including corkage fees
Whether alcohol is included or you have to provide it yourself
Familiarity with the venue or venue type
Availability on the wedding date, including whether the caterer is handling any other parties around the same time
The type of catering and level of service offered
Per-person charge for food
Pricing for package options
What services are included in the quoted prices
Additional fees, including service charges and gratuities
The typical server-to-guest ratio
Whether food is cooked from frozen or prepared fresh
Where food is sourced and if the caterer utilizes local vendors
Where food is prepared and if the caterer needs kitchen space at the venue
The type of cooking equipment used
Whether the tableware provided is real or disposable
How tastings are scheduled and carried out
Whether the chef preparing food for the tasting is the same person who cooks the food for the wedding
When the caterer needs to know your final menu decisions
The ability to coordinate table settings and waitstaff outfits with your wedding theme
What happens to leftover food and if you can have it sent home with guests or donated to a shelter
In addition to these questions, always ask to see references from each company and photos of events they've catered in the past. Get in touch with the references provided to make sure everything the caterer told you rings true and get an idea of what you can expect in terms of service quality. Looking at photos will tell you whether or not a company's style is a good fit for your wedding theme. If your venue has an in-house caterer, you won't need to go through this interview process with anyone else. However, it's still important to ask the same questions so that you and the catering staff are on in agreement regarding your requirements, tastes and preferences and you understand what the caterer needs in order to successfully fulfill your requests.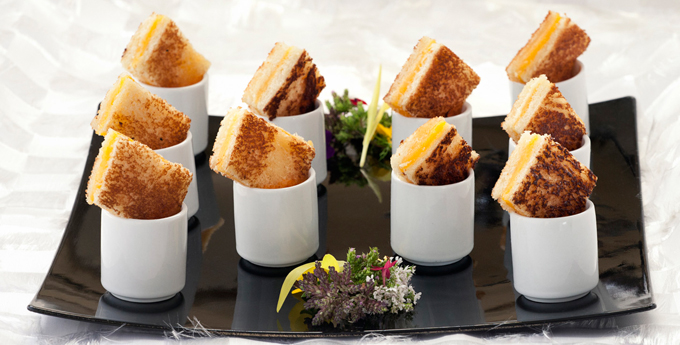 Making the Most of the Tasting Process
The tasting can be the most fun of all the steps of choosing a caterer, but you have to go into it with a critical eye in addition to expectant taste buds. If you've already chosen who you want to cater your wedding, your tasting should include all the items you wish to have on the menu. If you're doing a tasting before making your final decision, you'll probably be given samples of typical menu items the caterer provides. At both types of tastings, you want to be on the lookout for:
High-quality food with fresh taste
Attractive presentation and tableware
Attentive, friendly staff
Bring along your fiancé and your wedding planner, and have everyone take notes on each dish the caterer presents. Don't be shy about asking for changes to be made. This is your wedding and your menu; you want the food to meet your expectations and leave a good impression on guests. Be specific regarding what you want changed, and ask the caterer about additional options if a dish you were hoping to have on the menu isn't presented. If you can, meet the chef who made the samples. He or she can answer you questions about ingredients, sourcing and cooking techniques to ensure all the food is prepared to your liking. Remember to schedule the tasting far enough in advance to allow time to discuss changes and give the caterer your final choices by the time he or she specifies.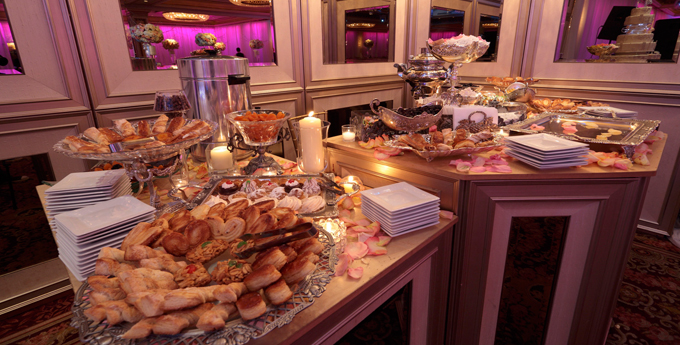 Ensuring Success
In addition to your menu choices, your caterer also needs to know if any options need to be prepared to meet special dietary requests or accommodate members of your wedding party with food allergies. Sometimes these changes cost extra, so be sure to discuss them before the caterer draws up a contract. It's important to understand how the caterer handles potential emergencies. What's the backup plan if any of the critical staff members are sick on your big day or something goes wrong with one of the dishes on the menu? How do they handle it if you discover you have to cancel? Discuss how the caterer makes good on mistakes or fixes problems, and find out the provisions of their refund policy. Details such as your full budget, whether children will be attending the reception and the number of vendors requiring meals are also important for the caterer to know. Share this information early on, and make sure the caterer takes everything into consideration in the final contract. Read the contract over thoroughly before signing to ensure nothing is left out and the prices originally quoted by the caterer are included.
Coordination and Timing
Between guest arrivals, flowers, photographers, wardrobe and entertainment, you're already juggling a lot as you plan your wedding schedule. To fit the catering seamlessly into the mix, work with your caterer to:
Divide responsibilities appropriately between the wedding party, the venue and the catering staff
Coordinate table settings, food presentation and servers' outfits with your wedding theme
Work out details of how food will be laid out and served
Schedule setup and cleanup to avoid overtime charges from the venue
If you're planning a traditional sit-down dinner, you'll also need to make sure your guests get their menu choices in before the caterer's deadline. Make this clear on your invitations to ensure everyone RSVPs on time.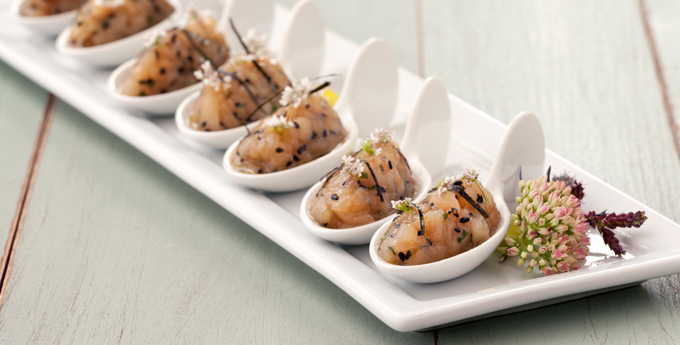 Planning the Perfect Menu
Today's couples have more catering options than ever before. Whether your wedding is traditional, modern or completely unique, you can find a caterer with a style to match. The type of wedding catering you choose has some effect on the total cost, but it's important to settle on an option in line with your wedding theme, your personal tastes and the preferences of your guests. Options available for weddings range from traditional to unique and include:
Sit-down meals, usually the most expensive choice, in which all guests order their meals beforehand and food is delivered to tables by waitstaff. This option tends to leave fewer leftovers than others because food is prepared in advance in specific amounts.
Family-style dinners involve large platters of food brought by waitstaff and allow everyone at the table to take as much of each dish as they want. You can offer more choices this way while still keeping the menu simple.
Buffets require less staffing than seated meals and give guests freedom to serve themselves as they wish. However, if you have a large wedding party, you'll need to provide enough buffet tables to prevent long lines from forming.
Food stations are similar to buffets but have one specific area for each type of dish. Some may feature chefs preparing food fresh at the stations or cooking dishes to order.
Lunch or brunch spreads provide classic mid morning dishes for weddings taking place earlier in the day. Little or no alcohol is served, and guests get the opportunity to enjoy "comfort food."
Appetizers and drinks are served either during a cocktail hour or as the entire menu offering. This is the easiest and least expensive way to feed your wedding party and simplifies the task of providing food everyone will like.
Whatever type of meal or buffet you choose for your wedding, make sure enough variety is provided to please the diverse tastes of your guests without going over your budget. You don't have to serve exotic or expensive food to achieve this. In fact, many couples are opting to provide familiar favorites, including macaroni and cheese, mini sliders, French fries and donuts. When given the professional touch of a caterer, these basic dishes can be transformed into works of art. Look for a caterer specializing in your chosen type of meal and menu. He or she can help you visualize and execute the perfect setup and introduce you to relevant trends with which you may not be familiar. For example, many modern couples are opting for more casual or "hip" food options, and most want the food to match the theme of the wedding in both motif and color. Whatever you have in mind, your caterer is there to make it happen.
Budgeting for Your Caterer
Catering is often one of the biggest expenses involved with a wedding. Expect to spend about 25 percent of your total budget on food and related services, and remember to budget more for the cake if the caterer doesn't include one. According to CostHelper, the breakdown for a typical catering budget averages out to be:
$30 to $70 per person for a buffet setup with no cocktail hour and a limited bar
$125 to more than $350 per person for a cocktail hour and a sit-down meal
$12,790 for a complete catering package, including the cake, to serve 150 people
When working out how much to set aside, remember most caterers add a gratuity of 15 to 25 percent. This can differ between catering companies, so make sure you know in advance what to expect so that you don't get a surprise when the bill comes. The total cost depends on the type of dinner or food you choose, the services the caterer includes, whether you have to handle the seating and table settings and if the cake or desserts must be purchased separately. Some caterers also charge an additional fee for tastings. Knowing exactly what you want in advance and discussing the possibility of package deals with your caterer can ensure you get your preferred menu and setup without spending too much. Don't come away from your big day regretting not splurging on a top-quality caterer. Your wedding day is meant to be enjoyed, not rushed through in a frenzy as you try to make sure all the guests get the right dinners or the buffet never runs out. Letting a caterer see to the details takes the pressure off you, the groom and the wedding party, allowing everyone to relax and create the kinds of memories you can treasure for the rest of your life.