A perfect wedding ceremony doesn't just happen. It needs a bit of practice to make sure all the moving parts are in order: the attendants need to know how to come down the aisle and where to stand, the bride and whomever is walking her down the aisle need to practice their entrance, and so on. Having tried it all out beforehand relieves nerves and catches any potential glitches so the ceremony goes smoothly. Once you've finished the rehearsal, many couples like to have a rehearsal dinner to thank everyone for coming and have a chance to relax and have fun.
Who Is Invited to the Rehearsal Dinner
The reward after the rehearsal is dinner and a chance to kick back with all the people who will be participating in the ceremony as part of the wedding party. Usually, this includes all the members of the bride's and groom's immediate families whether or not they're actually involved in the ceremony, and can also include relatives and close friends who have come from out of town for the wedding. Anoush offers
catering service in Glendale CA
and through Los Angeles for just this occasion. If the bride's or groom's entire family is from another part of the country — or another part of the world — this may be the first chance for everyone to be introduced and begin to know each other. Getting together in a casual, fun atmosphere is a great way to break the ice and give people an opportunity to talk informally and learn about the other folks who will be joining together to form your new extended family. It may also be the only chance the bride and groom have to spend real time with family members who've come from a distance, particularly if they're leaving for their honeymoon right after the wedding.
Where to Have the Rehearsal Dinner
Depending upon the size of the group, and your budget, you may want to have the rehearsal dinner in a private room at a restaurant, an intimate space in a
banquet venue in Glendale CA
or other parts of Los Angeles, or even have it catered at the home of one set of parents or other relatives. Ideally, you want enough room for people to move around and mingle as the spirit moves them rather than be seated with the same few people throughout the evening. If space is limited, consider at least serving family style so that everyone at each table has a reason to interact as they pass the food around.
When to Have Your Rehearsal Dinner
It's customary for the rehearsal and dinner to be held the day before the wedding, but if everyone is going to be available, there's no reason why they can't be on a Thursday, say, if your wedding is on a Saturday. It's a particularly good idea to do it that way if you have some crazy notion of getting a good night's sleep before your wedding day.
What to Do at the Rehearsal Dinner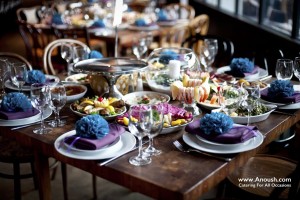 The wedding may be a time for pomp and circumstance, but the rehearsal dinner needn't be tightly scheduled or formatted, and the invitations can be as simple as an email or phone call. Cocktails, dinner, and toasting all around are the basics, but the rest is up to you and what you think will be fun for everyone. Music is always a good idea, whether it's from an iPod, a hired jazz combo, or your soon-to-be father-in-law's ukulele. Another thought is to have a slideshow of photos from both the bride's and groom's families, or, if you're brave enough, ask your parents to bring your baby books to pass around. There's no better way to get people talking. If you've got gifts for your attendants (and you should!), the rehearsal dinner is a good time to present them. Also be sure to thank every single person for taking the time to participate in the wedding and surrounding festivities. One way to do this is for the bride and groom to prepare a set of remarks that mentions everyone who is there and says something personal about each one that acknowledges his or her important place in your life. Not only will this give you the opportunity to say things you won't have time to say at the wedding, but it will serve as further introduction for people who haven't met before. You might say something like: "Thank you to Ellen for being my best friend since kindergarten and first telling me I should go out with Ari, which is the reason we're all here tonight," or "Thank you to my brilliant Uncle John who helped me through calculus and inspired me to choose a career that had nothing to do with math." These are the people closest to you in the world; it should be easy, as well as a joy, to find something to say about each one of them.
Who Should Pay for and Plan the Rehearsal Dinner
Traditional etiquette requires that the groom's parents foot the bill for the rehearsal dinner, but it's certainly not a requirement set in stone. Regardless, if the groom's parents or bride's parents are paying for it, they are the hosts and definitely should have a say in what and where the dinner takes place. It may actually be a welcome relief from orchestrating wedding details to give up a little control and just enjoy the party!