WHY WE GIVE BACK
Every event that brings people together to share a meal and raise a glass is, in some way great or small - an act of giving. Here at Anoush Banquet Halls, our focus is not only in being a part of the best wedding venues and
banquet halls in Glendale CA
but in being fortunate enough give back to the community that we are a part of. We are reminded on a daily basis that one of the most joyful aspects of our work is seeing the smiles on the faces of the guests you invite to the celebrations we cate. In fact, it wouldn't be an understatement to say that the work we do for our customers, and the generosity and love we see from our clients every single day, inspires us to give back to the community ourselves.
WHO WE HELP
Giving back creates bonds, memories, and reminds people facing adversity that they're not alone in the world. Whether it's an opportunity to provide a slice of normality to the homeless or celebrating cycling in Los Angeles by donating
catered food in Los Angeles
. We believe that helping those less fortunate than ourselves, and highlighting ways we can improve our world is as much a part of our mission as creating new and unforgettable culinary experiences for our customers.
REMEMBERING HISTORY
There's no more important reason to realize how lucky we are now than to look back and honor the tragedies of the past. This 24th April marks the centenary of one of the darkest times in human history and a deep tragedy of modern Armenian history. On that day in 1915, the Ottoman Turks rounded up and ultimately killed 250 Armenian intellectuals. In the months that followed, as the last days of the Ottoman Empire unfolded, over 1.5 million innocent Armenian men, women and children lost their lives. How does this tragedy affect us? How can we come together to learn from it? Anoush is dedicated to helping to answer those questions in the spirit of learning and enlightenment.
SPECIAL NEEDS PROM
One of our proudest recent charity events was a prom designed for children with special needs, catered for our good friends at Inclusion Clubhouse. With support from celebrities like Naomi Watts and Liev Schreiber, the prom raised money for the Inclusion Clubhouse - a creative environment where special needs and able bodied kids can play, bond, and learn from each other. We can't think of a better cause than that.
ANOUSH CARES EVENTS
On March 16th, at our very own Anoush Banquet Hall, we hosted an event featuring Facing History and Ourselves where Dr. Richard Hovannisian, a leading expert in the Armenian genocide, and himself directly impacted by it, explored ways of increasing awareness and understanding of those tragic events among educators and students. Just over three weeks later, on April 9th, we were proud to sponsor and cater a high-profile event at Loyola Law School featuring high-profile attorney Mark Geragos, which explored the legal impact of the Armenian genocide.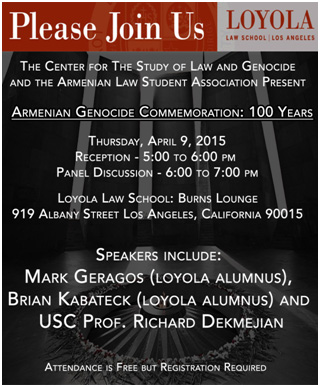 In ways large and small, Anoush believes in supporting good causes. If you're creating a fundraising event for one, let us know. We'll be proud to do what we can to help.