Your wedding day should be one of the happiest days of your life, but problems with planning can undermine your ability to enjoy it. With everything from food to photographers demanding your attention, it's easy to get overwhelmed. These seven wedding planner apps can help bring order to the chaos and ensure your wedding goes off without a hitch.
LadyMarry Wedding Planner (ladymarry.com)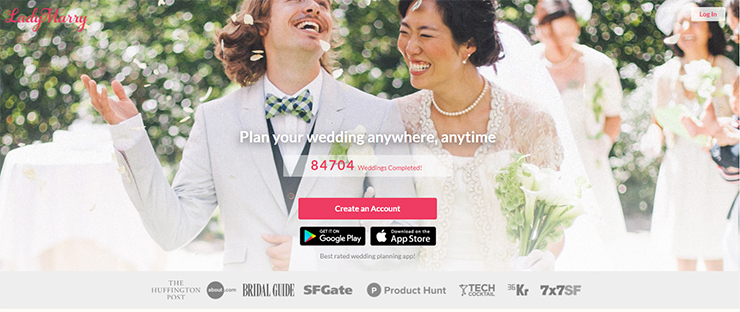 As the number one wedding planning app on Google, LadyMarry is the "best rated wedding planning app." Every year, 250,000 couples rely on the app to plan their weddings. Over 80,000 successfully completed events and reviews by the likes of Huffington Post, Bridal Guide and About.com point to LadyMarry as a top choice for coordinating all the details of your ceremony. The creators of LadyMarry believe couples should be able to enjoy wedding planning as much as the wedding itself, and they created a collection of tools to support this vision. The greatest benefit of using the app is being able to keep all relevant information on your phone instead of trying to organize the details on paper. When you sign up, LadyMarry uses the details you provide about your wedding date and personal preferences to create a customized checklist and timeline to guide you through the planning process with minimal stress. The checklist includes categories such as:
Guests
Venue
Attire, beauty and rings
Food, toast and entertainment
Photography and videography
Check off items under each heading as you complete them, and use the interactive "to-do" feature to see how well your plans are coming together. This tool gives you an overview of the number of finished tasks, how many tasks are left and how close you are to the date of the wedding.
Through a partnership with Thumbtack, LadyMarry can connect you with relevant local vendors and provide pricing for common wedding services at a glance. Narrow down your choices to fit your theme and budget, and sync information across all your devices so that the latest additions to your celebration are always up to date.
Syncing also makes it easy to keep everyone from members of the wedding party to out-of-town guests in the loop. Collaboration helps streamline planning, and the ability to add custom notes to your timeline allows you to keep track of details such as deposits, deadlines and important reminders.
As your special day draws near, the LadyMarry feature of switching between the "big picture" of your plans and drilling down to the details can keep you on target without feeling overwhelmed. If you're the type who loves counting down the days in anticipation of a big event, the countdown widget will preserve your sense of excitement right up until the moment you walk down the aisle.
Wedding Planning by WeddingWire (weddingwire.com)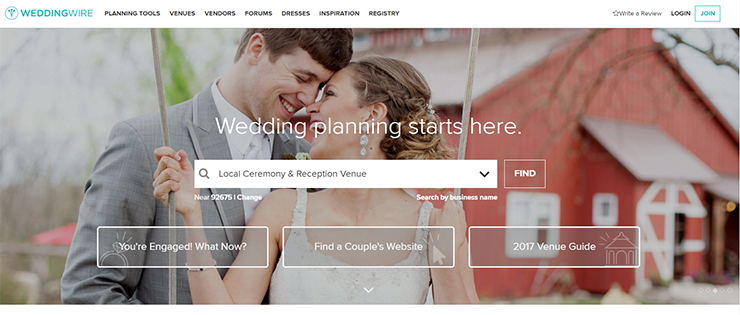 This planning app for iOS and Android "helps turn your vision into a reality" by putting a collection of powerful organizational tools at your fingertips. Signing up for a WeddingWire account gives you access to the full functionality of both the website and app. Information syncs between platforms so that you can design and plan every part of your wedding from any device.
Jump start your planning with inspiration from WeddingWire's photo galleries. This diverse collection of images from real weddings can help you decide on invitation designs, coordinate flowers with table settings, choose bridesmaids dresses, build your dream wedding cake, find the right jewelry and anything else necessary to personalize your wedding. If you need help, visit the forums to get answers and suggestions from brides, engaged couples and newlyweds. Their experiences can steer you toward the right decisions while avoiding potential mistakes.
A comprehensive checklist tailored to your wedding guides you through the planning process. Pair this with the budget manager to track how much you spend on flowers, music, catering, invitations and more. Finding everything you need for the perfect ceremony and celebration is easy with a directory of over 200,000 wedding professionals. Search for vendors in your area, and read reviews to determine which ones are right for your special day. Vendors can be contacted directly from the app to ensure a seamless experience.
Your WeddingWire account also comes with a free wedding website. Customize this public display of your journey toward marriage with one of over 400 themes. Sort by color to coordinate with your chosen wedding theme, or upload a photo background for a truly unique design. Building your site is easy with WeddingWire's simple step-by-step guide, and you can add widgets to manage important details such as RSVPs, registries and guest travel information. Browse featured registries on the WeddingWire website to find your favorites, and add your choices to your site.
As you build your guest list and begin to collect RSVPs, use the WeddingWire seating chart manager to place attendees at tables around a custom floor plan matched to your venue. Export your design to the venue before the wedding to minimize hassle with seating. If you desire, guests can use the associated WedSocial app to post any photos they capture on the big day.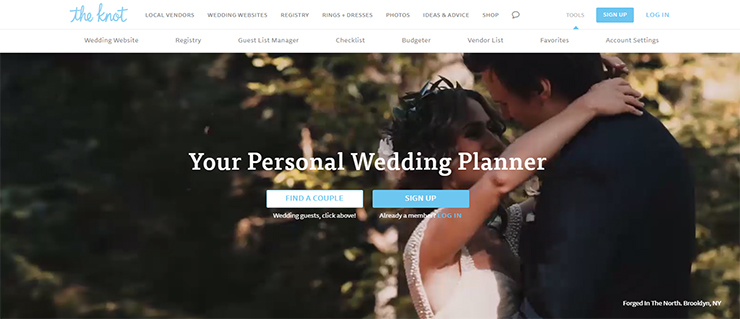 This extension of "the [number one] wedding website" is available for iOS and Android and syncs directly with TheKnot.com to allow you to plan your wedding from your computer, phone or tablet and always have the information you need when switching between devices.
Over 50,000 wedding ideas are available in The Knot app and on the website to give you inspiration for everything from flowers to honeymoon plans. Look at colors and themes, start planning your invitations, find the perfect wedding songs, get budgeting advice and more from a collection of detailed articles written just for couples whose nuptials are in the planning stages. Save your favorite ideas so that you don't forget a single detail, and share ideas with friends and family to get feedback as the big day gets closer.
When it comes to planning, The Knot is all about access and connections. You get a personalized timeline with a checklist to help you manage every detail of your wedding, and an extensive database of vendors and venues helps make it all happen. Search over 250,000 local vendors providing everything you need for your wedding, including:
Beauty services
Cakes
Caterers for main meals and desserts
Flowers and décor
Gifts and favors
Hotel room blocks
Invitations
Jewelry
Live music and entertainment
Photography and videography
Registries
Rentals and transportation
Millions of reviews from other couples take the stress out of narrowing down your choices, and you can communicate with your chosen vendors through the "Conversations" option. This keeps all your contacts in one spot and offers peace of mind by providing access to The Knot's dedicated concierge team. Their goal is to make your wedding "worry-free" by handling unanticipated cancellations and helping you find replacements as soon as possible.
When you're ready to book a location, The Knot offers the choice of scheduling tours from venue profiles right inside the app. Get quotes on your favorites, set up times to go take a look and find the venue of your dreams in no time at all. Customized budget recommendations show you how much you should allocate for this and other aspects of your wedding so that you don't come up short at the last minute.
To make choosing gifts easier for guests, The Knot partners with popular retailers such as Amazon, Boscov's, Pottery Barn and Williams Sonoma and allows you to bring together items from all of them in one place. Share a direct link to the registry on shower invitations, or create a personalized wedding website using one of over 100 mobile-friendly designs on which to post all the important information about your special day.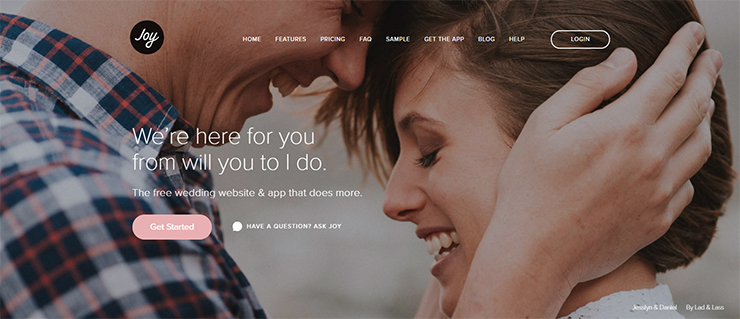 This planning app for Android and iOS puts "everything about your wedding in one place." As the name suggests, the goal of the app is to help you share the joy of your wedding day by providing a suite of tools to make planning easier.
Joy handles the logistic and aesthetic details of your wedding, including:
Announcements
Guest lists
Meal planning
RSVPs
Travel details
Since tackling all of this yourself is a big job, you can share the load by adding as many admins as necessary. An option to create customized question and answer sections for guests prevents you from wasting time fielding a steady stream of repeated inquiries about basic details.
With these useful tools in place, you're free to craft the perfect experience for your big day. Import a spreadsheet of your guest list, or create a list directly in the app with associated information such as mailing addresses, phone numbers and meal selections. Collect RSVPs automatically, and make private notes to remind yourself of important details about each person.
Customizable wedding announcements ensure everyone receives notification and has a chance to reply. Choose one of Joy's templates and customize the background, fonts and colors for an easy and beautiful design. For the more technically minded, you can edit the code to make the invitation layout truly your own. Once everyone has responded, guest lists may be exported as spreadsheets or shared with vendors.
Use the information from the Joy app to create an attractive wedding website without a lot of work. Each site section can be set to display publicly or require a special "wedding code" for access. This makes it easy to share venue details, maps, directions and other important information with your guests. Introduce everyone to your wedding party with a "showcase" of pictures, and simplify shopping by linking your wedding registries right on the site.
Before, during and after the wedding, guests can share photos and leave comments on a timeline created just for the event. Special "moments" capture and organize key events, and photos uploaded by guests allow you to "see your wedding day from their perspective." If you choose to have the timeline active during the wedding, guests unable to attend can watch the event unfold. Grant permission for guests to share photos on Facebook and Instagram to allow even more of your friends and family to enjoy the beauty of the big day.
A real-time guest book rounds out Joy's social offerings. Respond to guests who sign in by leaving comments or tapping the "heart" icon by their photos. Automatic notifications guide your guests through the wedding by reminding them when to silence their phones or get ready for the cutting of the cake.
With its extensive list of features, Joy provides a beautiful record of your wedding you can share and look back on whenever you want to relive those special memories.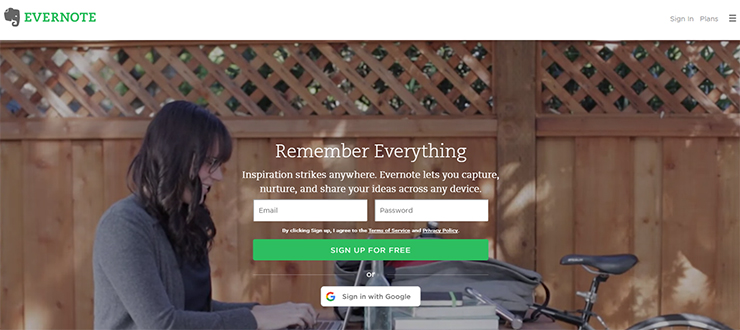 When you want a flexible app to organize your dream ceremony, Evernote fits the bill. Although not designed specifically for weddings, this web-based tool with apps for iOS and Android has everything you need to capture, sort and comment on important details throughout the planning process. Evernote is an especially useful tool if you're putting together a non-traditional wedding or prefer to have greater control over your system of organization than is offered by other wedding apps.
Evernote uses collections dubbed "notebooks" and everything you file in a notebook is called a "note." You can create separate notebooks to keep track of each aspect of your wedding and populate them with as many notes as you want. A notebook for venues may include links to venue websites, lists of prices, reservation information and reception area floor plans. Create a virtual "binder" for design ideas by saving tips from wedding websites, adding your favorite invitation themes or capturing and uploading images from the shops you visit as you plan.
Make capturing ideas easier by installing the Evernote web clipper on your PC's browser and utilizing the clip or share function on your mobile device when you find useful websites, images or files. Separate content into the appropriate notebooks, and add custom tags in everything you save to make notes easier to find later. Notes can be searched by tag or for relevant text within the body of each note. Save your most common searches to speed up the sorting process in the future.
For budgeting, snap photos of all your receipts. Store them as notes, and use Evernote's linking option to associate each note with the appropriate expense. Linking allows you to connect any notes containing related information, such as music and photography, flowers and table decorations or meal planning and recipes. Share notebooks with your fiancé and members of the wedding party to keep everyone in the loop during the planning process.
Simplify guest list management with a master list linked to information about travel, accommodations and RSVPs. If any friends or family members have special requirements or dietary restrictions, a "Guest" notebook is the place to save those details. After the wedding, you can add gift information to each guest entry as reminders for when it comes time to send thank you notes.
When you use "the stylish wedding and website app" to plan and manage your big day, you get a completely customized experience focused on you and realizing your vision of the perfect wedding.
Get started with Appy Couple by choosing your package. For $39, you get access to the "Boutique Collection" of over 500 app and website designs. The $89 "Luxury" option offers access to limited-edition luxe designs, including new styles as they're released. For weddings where nothing less than a completely custom layout will do, you can request a quote for their "Bespoke" option. Whatever level you choose, you're not required to stick with the same design for the duration of the event. Change designs whenever you wish until you find the perfect match for your wedding style.
Your account includes a beautiful custom website to share wedding information and showcase anything from the people in your wedding party to important moments in your journey toward tying the knot. Use drag-and-drop editing to create your chosen layout, choosing how your guests will experience your wedding when they visit the page.
Appy Couple is your one-stop tool for planning and organization. Handling the guest list is a snap with tools for connecting your email and Facebook accounts to find, import and group the people you wish to invite. Easily contact anyone on your list with messaging, group chats and announcements. Let guests talk to each other or to members of the wedding party, and collect RSVPs right from the app or website. You'll receive a real-time alert whenever someone sends their RSVP or requests to join the wedding on the app.
Once guests have signed up, they can use the concierge tools from Appy Couple to coordinate travel plans, find hotels, look for rental cars and locate beauty services. An interactive guestbook is provided for anyone in the wedding to leave messages, create stories or post photos. Guest photos may also be uploaded to a gallery after being captured through the app's "point and shoot" feature. If you choose, photos can be shared on social media, via text messages or in emails. Add effects or enhancements to any picture, or link YouTube and Vimeo videos to special moments in your gallery.
Use gallery images to create a real-time photo stream during the wedding, projecting special moments for all to see. Friends and family who can't attend the ceremony can still get in on the celebration with live streaming images and virtual champagne toasts. With Appy Couple, your wedding day becomes a truly immersive experience for everyone.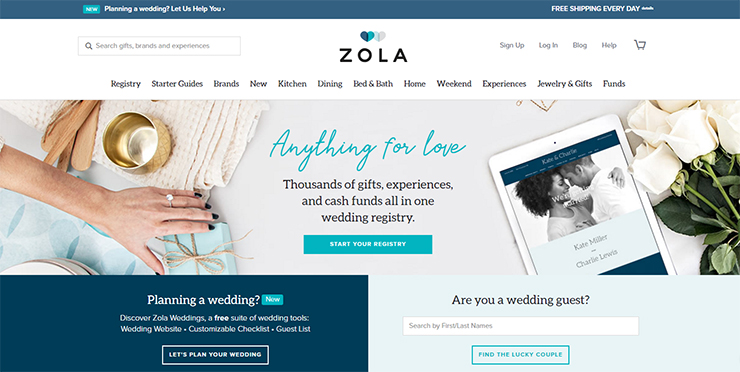 If you're having trouble keeping track of a wedding registry scattered across multiple sites, Zola can help. Boasting positive reviews from Brides, Forbes, Refinery29 and other notable names, this iOS app claims it will do "anything for love." Zola's goal is to bring your entire gift registry together in one place so that the gifting process is as easy as possible for you and your wedding guests.
The app acts as an extension of the Zola website, where you'll find gifts from over 450 top brands in categories like appliances, bedding, home, cookware and experiences. When you sign up for a Zola account, you create a personalized registry page with photos, guest notes and a custom URL to share with friends and family. Start adding products to your registry directly from Zola, import items from third-party registries or use the "Add to Zola" option in the app to add items from any site. If you find something you love while shopping at a brick-and-mortar store, use the app's barcode scanner to make it part of your wish list. Grouping items into collections makes browsing and buying easier for guests.
Don't be afraid to add a few high-priced "dream" items. You can enable the "group gifting" option to allow friends and family to contribute any amount they wish toward big gifts like expensive kitchenware, furniture items or personalized monthly subscription boxes. If the item is fully funded, you'll receive it as a gift. If not, you still get to keep all the money contributed.
You also have the option of creating custom cash gift ideas or special funds. Ask for contributions toward your honeymoon, a down payment on a house or anything else you feel is appropriate to request from the people who know you best. Guests may also contribute cash without any particular designation. All cash gifts are subject to a 2.5 percent credit card processing fee. You may choose to pass this fee on to guests or have it taken out of the total amount you receive.
Any time a guest contributes money or purchases a gift, Zola sends you a notification so that you can decide what to do next. Have gifts shipped right away or at a later date, make exchanges online before gifts are sent or transfer money to your bank account. With Zola's gift management tools, you can easily track who bought what and use the information to send appropriate "thank you" notes when the time comes. After the wedding, Zola offers couples ten percent off anything in their online store for a full year.
The best wedding apps are the ones with features to support your personal planning style and the type of wedding you're putting together. Each of these apps can make planning your wedding easier and less stressful. Use your favorite to stay organized, stay connected and create a day you'll remember for the rest of your life.