by Vrej Sarkissian, CEO of Anoush
"Cuban cigars, Armenian brandy, and no sport."
While this perfectly describes my idea of a relaxing day, it was actually Winston Churchill's supposed reply when asked the secret to his long life.
Since most doctors wouldn't recommend this lifestyle, it's best to reserve the cigars and brandy for special occasions. And at Anoush Catering, we know a thing or two about celebrations.
Brandy plays such a major role in the events we cater that we felt our menu couldn't be complete without a signature brandy that met our high standards. It had to complement our selection of savory appetizers as an aperitif, yet be sweet enough for a post-dinner drink. Most importantly it had to provide warmth, depth and complexity.
After sampling brandies from around the world, we finally settled on one produced by the Yerevan Ararat Brandy Factory which traces its roots to Armenia's first brandy distillery. Starting from grapes grown in the Aras River Valley, the brandy is aged for ten years, earning it an X.O. (extra old) distinction. Its deep amber color and rich taste with hints of dried fruit give way to a velvety smooth finish. A couple sips in, and we all knew this brandy would only fortify the heart-felt toasts that would be made with it. (What can I say? We all felt warm and loving after several rounds of tasting.) Besides its excellent taste, the brandy's heritage and tradition made it an easy choice as the perfect drink for our guests at Anoush.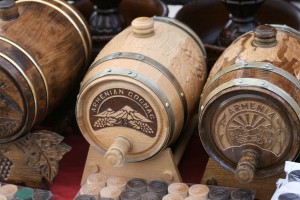 Why Armenian Brandy? A storied past…
Much like wine, the quality of brandy depends on the grapes. Armenia's terroir — its combination of rich soil, high altitude, dry climate and brilliant sunshine — produces magnificent grape varieties native to the Caucasus mountain region. And these grapes have grown there for thousands of years…archaeologists recently discovered the earliest known winery in Armenia.
Commercial brandy production in Armenia developed more recently, with the first distillery opening in the late 19th century. The brandy was so good that the French even allowed it be called cognac for a time. Armenian brandy grew to become the preferred brandy of the Soviet Union, and continues to be a favorite in Russia and Eastern Europe.
As Armenian brandy's reach continues to grow (over 14 million liters exported last year), its fame has reached mythic proportions. While the Churchill connection is unverified, the story goes that during WWII's Yalta Conference Joseph Stalin presented Churchill a bottle of Armenian brandy. Churchill became so enamored with the brandy that Stalin supposedly shipped him several cases of the stuff over the years.
We can't guarantee that our Signature Anoush Brandy will broker any peace deals, but you'll probably want several cases for your event. So when scheduling your next tasting with Anoush Catering, make sure to ask for a sip!