The custom of exchanging wedding rings dates back to ancient Egypt and endures today as a symbol of commitment and love. Rings have a central place in the
wedding ceremony
and are meant to be worn for life. Use this guide to find just the right wedding rings for you and your groom to cherish as everlasting declarations of your devotion.
Finding a Jeweler
The jeweler from which you purchase your rings will provide guidance during the buying process and your go-to place for maintenance and repair. Therefore, it's important to find a company you trust with a team on whom you can rely in the long term. Your first step is to decide what type of jeweler you'd like to work with and find out what options are available in the area. Well-known stores in malls and with storefronts on major streets tend to offer fairly standard style and design choices but have convenient locations, making it easier to bring rings in for upkeep. Independent jewelers may have more options and more freedom to help you find something you love without breaking your budget. Boutiques and online wedding ring sites offer a larger selection of contemporary, unusual and unique rings and may also provide options for customization not available from other jewelers. In addition to selection and pricing, you also want to consider what kinds of services jewelers offer to couples purchasing wedding rings. Warranties, guarantees and service plans cover different aspects of maintenance and repair, and it's important to know what's included so that you can calculate how much it will cost to care for your rings over the years. Reputable jewelers are staffed by people trained and certified by either the American Gem Society or the Gemological Institute of America. Ask to see these credentials as you shop around, and talk with employees to gauge their knowledge about materials, stones, care and cleaning. Reviews and recommendations are helpful in narrowing down your search. Ask friends and family about the jewelers they've made purchases from and what their experiences were like. Look up reviews online to see what kind of reputation local and online jewelers have among previous customers. You'll be able to weed out those with too many negative reviews and those not providing the level of customer service you expect. Trim your list down to a few top choices, and make these your focus as you consider the characteristics you and your spouse want in your wedding bands.
Choosing a Metal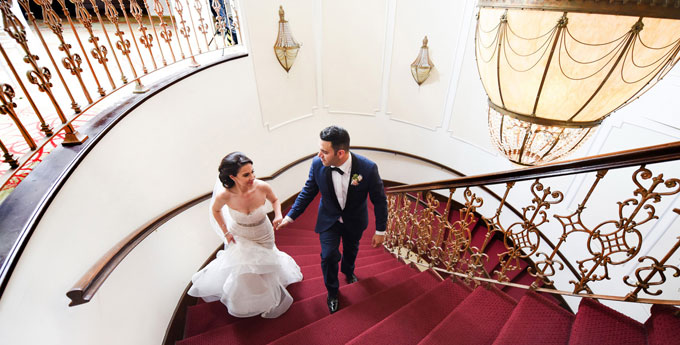 Metal forms the foundation of your wedding ring, dictating qualities such as luster, color and durability. Many couples opt to use traditional metals, but a variety of new choices have become available in the recent past, offering fresh looks with just as much staying power.
Gold
Classic gold rings are still popular and come in several different shades, including yellow gold, white gold and rose gold. Some rings mix more than one color to create a distinctive combination. Yellow gold is made from pure gold mixed with other metals to offset the natural softness of the material. Karatage, denoted by the letter K, describes the hardness of the final product. Most couples choose nine-, 14- or 18-karat gold to minimize the potential for wear over time. White gold is formed by alloying gold with nickel or zinc to create a silvery color. Rings made with this material are usually plated with rhodium to preserve the shine. The coating has a tendency to wear off over time but can be replaced without much trouble. The pink hue of rose gold comes from the addition of copper and forms an attractive backdrop for engraving or gemstones.
White Metals
If you like the bright look of white gold but want something sturdier, platinum may be the solution. Because of its relative rarity, this metal is one of the more expensive options for wedding rings. However, platinum is more durable than gold and naturally hypoallergenic. Along with the attractive look of the metal, these qualities have made platinum a popular choice for contemporary rings. Palladium is cheaper than platinum and shares its hypoallergenic qualities. Its eye-catching luster makes it a viable alternative for couples lacking the budget for pricier materials.
Alternative Metals
Modern ring designs favor lighter, less expensive metals with the ability to resist scratching and withstand years of wear. This is an especially important consideration for your groom's ring and for yours if you do a lot of work with your hands and don't want to have to remove your ring too often. Consider these alternatives if you're looking for a metal with a little more muscle:
Titanium is a durable grey or black metal found in many contemporary rings. It's light, scratch-resistant and not prone to breaking.
Tungsten carbide is heavier than titanium and may be black or silver. This lightweight metal has become popular in grooms' rings because it can take a beating without suffering damage.
Cobalt chrome is made from a mixture of cobalt and chromium and has an attractive bright color. Dense but light, this metal resists scratching to retain its original appearance.
Stainless steel is less expensive than other metals and is known for its toughness.
Finishes
The way a ring is finished can change the look of the metal by imparting a distinctive texture or feel. For example, "high polish" finish gives your wedding ring a reflective appearance by bringing out the full shine of the material. Other common choices include:
Matte, a flatter modern look with more texture sometimes combined with high polish for a dual-texture design
Hammered, a lightly "pounded" finish with a geometric appearance
For the modern bride and groom, contemporary "sandblast" and stone finishes are available. These create rugged textures without diminishing the elegance of your wedding rings. You can even choose a sparkle finish for a subtle shine suggestive of starlight.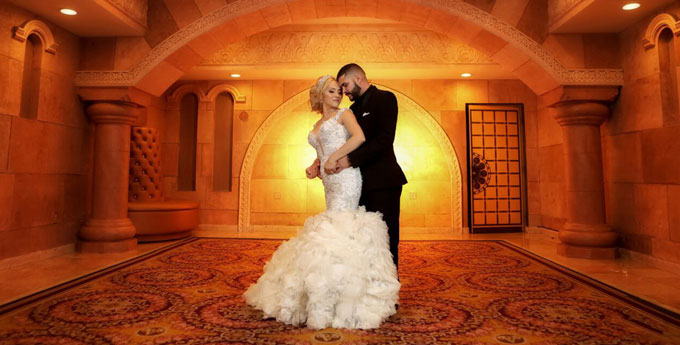 Shapes to Ponder
Since you and your groom will be sporting your wedding bands for life, shape is one of the most important design considerations. Referring to the way the metal is formed, shape has a significant impact on how comfortable a ring is when worn. Unique shapes can also create just as interesting a look as the finish you choose. Court rings are the most traditional and have a slightly curved appearance both inside and out. D-shape and flat rings have the shapes suggested by their names. If you like flat rings but want something a little easier to wear, flat court styles are flat on the outside but curved inside. You may also like flat-sided court, a court design with slightly flattened sides to minimize the domed look while retaining the curvature. In direct contrast to flat styles, a halo shape creates a ring with a rounded appearance. This may not be as comfortable as other rings, but it can look very attractive when adorned with small stones. Concave rings invert the idea of court rings, sporting a mostly flat interior with an exterior designed to curve inward. When considering the shape of the metal, also think about how wide and thick you want your ring to be. Traditionally, brides' rings are thinner and more delicate than grooms' rings, although what you choose depends on your tastes and personality. Most rings are described as being either light, medium or heavy and range in thickness from about 1.3 millimeters to 2.1 millimeters. Width typically ranges from 2 millimeters to 10 millimeters. Sizes may differ between jewelers, so you'll have to ask what's available from the store or company from which you choose to buy your rings. Ring shapes look different at various widths, with some designs being more pronounced than others. For example, a flat court ring may be very attractive at a wide width, but the shape will appear less distinct in a thinner band. Halo shapes may be more practical for thin rings. Your chosen width also needs to be big enough to accommodate any jewels or gemstones you wish to incorporate.
Stones or No Stones?
Adding diamonds or other gemstones is another popular way to create a distinctive set of wedding rings. Although such embellishments are most often seen on brides' rings, don't discount diamond rings for your groom. A well-placed gem in an understated setting can be very attractive when paired with the right metal and finish. Diamonds and colored diamonds are traditional choices for wedding ring gems, but other stones are becoming more common. The key is to balance bling with beauty in a way designed to draw attention without overpowering your engagement ring or being too "loud" for your groom's personal style. If you do want to include jewels, you have the choice of several different settings:
Channel: A long string of stones set side by side
Bezel: Stones surrounded by a thin metal border
Pavé: A central stone surrounded by smaller, close-set stones
Cluster: A large diamond flanked with smaller diamonds
Gypsy: Stones sunk to be level with the ring's surface
These settings allow for many combinations of stones, including color combinations unique to you and your groom. Whether you want the subtle look of a single diamond or a ring encrusted with all your favorite gems, there's a setting available to create the design of your dreams. One other option gaining popularity among couples is the eternity ring, a ring with stones set all the way around to represent the eternal commitment of married life and love. Although diamonds are the most common choice of gem, these rings are available with a variety of different stones in many colors.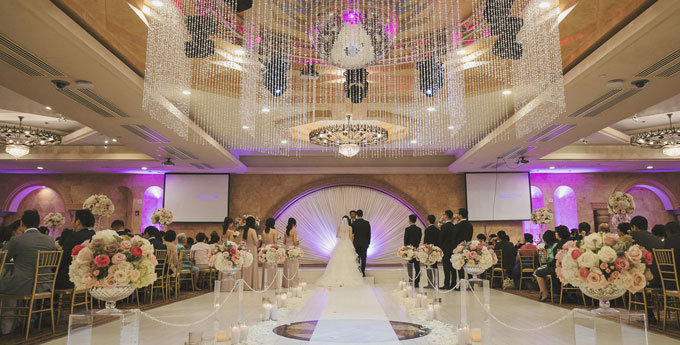 Consider Budget
As you plan the
budget for your wedding
as a whole, be sure to include the cost of your wedding bands. Talk with your fiancé about the various style choices available, and come to a consensus about what metals, stones and embellishments you want. You don't have to make a final decision right away, but you should get enough of an idea to plan how much to spend on rings you'll cherish for life. In 2016, the national average price for a bride's wedding band was $1,417. Grooms' bands were significantly cheaper, averaging about $558. A more general price range places wedding bands between $500 and $4,000 each, with an average cost of $1,500. Some inexpensive bands may be $100 or less. Wedding rings for the groom tend to be cheaper in general. The exception is platinum with prices of $2,000 or more. For both bride and groom, traditional 14- and 18-karat gold rings range from $150 to $500. Keep in mind the averages are given for a single ring, not a pair, meaning whatever price range you look at must be doubled when working out your budget. Also keep in mind these averages are for the wedding bands only and do not include the price of an engagement ring for the bride. Factors affecting ring prices include:
The type and amount of metal used
Use of gemstones
Gemstone type and the number of stones
Custom finishes or engraving
Designer styles
> Knowing the approximate price point for your wedding bands makes the search easier and minimizes the time you'll spend at jewelers so that you don't feel rushed as you juggle the other aspects of planning your wedding.
Warranties and Guarantees
Ongoing upkeep can add to the price of a ring, especially if you choose a delicate metal or a design with several stones. Ask your jeweler about warranties and guarantees for your wedding bands. These should be part of the package when you and your groom purchase rings. A good warranty or guarantee should cover your rings for a lifetime and include:
Routine cleaning
Basic repairs
Resizing
Stone replacement
You may also wish to purchase an additional service plan to cover scratch repair, maintenance and repair of stone settings and refinishing or replating. Jewelers typically have requirements you must follow to maintain warranty coverage. These may involve getting the ring inspected regularly, having inspections documented and having all repairs performed by the same jeweler.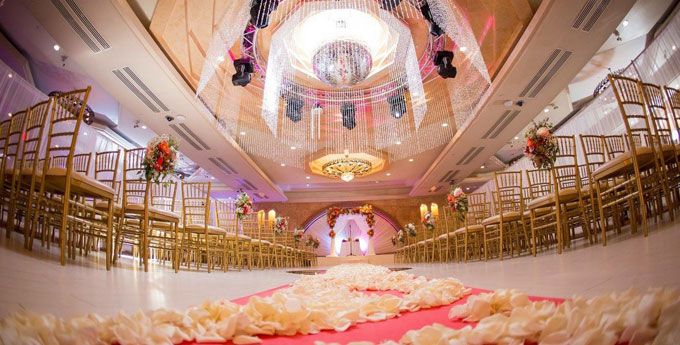 A Ring for Every Style
Shopping for rings is tied up in the emotionally charged process of planning your wedding, but you can't let emotions distract you from being practical. Unlike other jewelry, a wedding ring is forever, and you can't simply go with whatever style first catches your eye. You and your groom need to take the time to consider what looks best, fits best and is best suited for your lifestyles. There's always room to be creative, but make sure you choose something you'll still want to wear after you emerge from the glow of the wedding.
Traditional
For a ring with lasting style, you can't go wrong with the basics. Ask your jeweler to show you some traditional designs, and you'll see gold, platinum and other plain metals curved into the familiar dome of the court shape. Platinum is the most popular choice for traditional rings, likely because of its durability and the way it develops an attractive patina over time. If you like the resilience of platinum but aren't fond of the "aged" look, your jeweler can buff the metal for you to restore the original shine. The close-set diamonds of pavé rings are another attractive traditional option. These small stones add subtle shine without appearing gaudy, and the design appeals to many different tastes. Although diamond rings are the conventional choice in the pavé style, you can also opt for other gemstones or a combination of diamonds and colored gems. A traditional style may be the best choice if your budget is limited. Unless you have your heart set on a rare or unusual metal, rings without stones and other embellishments can be purchased for less than $500.
Contemporary
A similar degree of minimalism is seen in many modern ring designs. Young couples interested in keeping things simple are choosing single-color rings with no frills, sometimes in very thin widths to avoid an over-the-top or excessive appearance. These rings are also budget-friendly but still make a powerful statement about the lasting power of a couple's love. Titanium is one of the most popular metals in contemporary wedding rings due to its lower price and relative strength, but vintage designs are also in fashion. You can go for an actual vintage ring or choose a style made to look like a timeless antique. Either way, you'll wind up with a unique design set apart from the mainstream. If you want a ring with a lot of stones but not too much bling, an eternity band could be just right. This is the style featuring small stones set around the entire circumference of the ring to represent the eternal nature of married love. Another way to show you and your spouse are truly one is to have each other's fingerprints engraved in the metal of your rings.
Heirloom
Rings belonging to beloved relatives have meaning beyond your own wedding and can be a beautiful way to unite cherished memories of the past with the new memories you and your spouse will make in the future. Choosing to use heirloom wedding rings means you not only get a unique design but also have the privilege of continuing a family legacy. If you don't have a cherished heirloom but still want the look and feel of a family treasure, take a look at antique rings available from local dealers. Most older rings will require some cleaning and repair before they can be worn, meaning you'll need the help of someone skilled in jewelry restoration to ensure the original design is preserved as closely as possible. Once the ring is purchased and restored, have it appraised and insured. Since you can't easily replace heirlooms or antiques, you want to be positive your treasure is well-protected.
Customization
Just about any wedding ring design can be customized so that it's unique to you or your groom. Options vary between jewelers and online stores, but the basic process allows you to "build" a ring by choosing metal, shape, stones and embellishments. Some services only offer a few options; others will start completely from scratch, rendering the ring of your dreams with sketches, design concepts and three-dimensional models before creating the final product. If you'd just like to introduce a few extras to a ring design you already love, simple engraving adds a special dimension to the style. You and your groom may choose to have a special word or phrase etched into the metal, or you may wish to add a stone or two for a little bit of sparkle and color. With all the new metals and designs appearing in the world of wedding rings, the possibilities are virtually endless.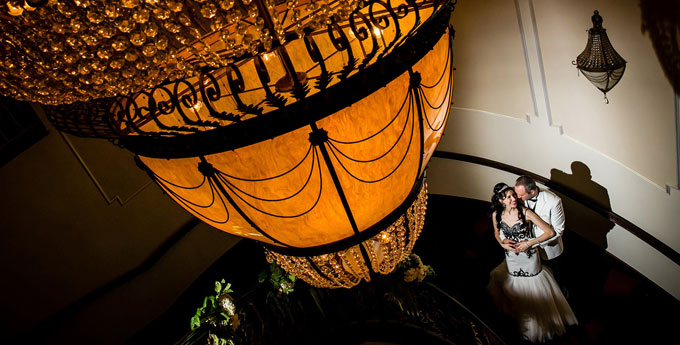 Should Wedding Bands Match?
Couples have traditionally chosen to exchange matching rings as they pledge their devotion during the wedding ceremony. However, this trend is changing as modern brides and grooms seek to express their own senses of style and let their unique personalities shine through in ring designs. Whether or not you and your groom choose matching bands is entirely up to you. If you're so in sync with each other you can't imagine wearing different styles, matching bands reflect your sense of oneness. However, it's important to consider lifestyle when making this choice. One of you may have a more active, demanding profession than the other, meaning a delicate ring would have to be removed often to avoid becoming damaged. You may work in an environment where a wide, bright or otherwise eye-catching band would clash with the dress code, requiring something designed to blend in. If you do decide on unique bands, you can still celebrate your unity in the style by:
Choosing the same type of metal with different designs
Choosing different metals with the same design
Using metals or stones in complementary colors
Featuring one unique element on both rings
As you consider all the details of choosing wedding rings, remember you're looking for an emblem of lifelong devotion. The style should be one you love, designed to fit your lifestyle and express your personality while reflecting the way you feel about your spouse. Your groom's ring should be just the same, embellished with elements unique to him and to your relationship. With so many options available, you can find or create rings with distinctive features and lasting appeal. Keep comfort in mind while browsing styles, and pick the rings you and your groom know you'll want to wear forever as a declaration of how much you love each other.