by Vrej Sarkissian, CEO of Anoush Catering
Think back to one of your favorite meals. I'm willing to bet you're remembering a family dinner with everyone you love gathered around a table, helping themselves to second and thirds of your mom's best cooked meals. And it's not the food that you specifically remember, but the experience of eating together. Of passing the salad to your brother, or carving off a piece of turkey for your sister. It's the communal feeling of eating together that forms your strong memories.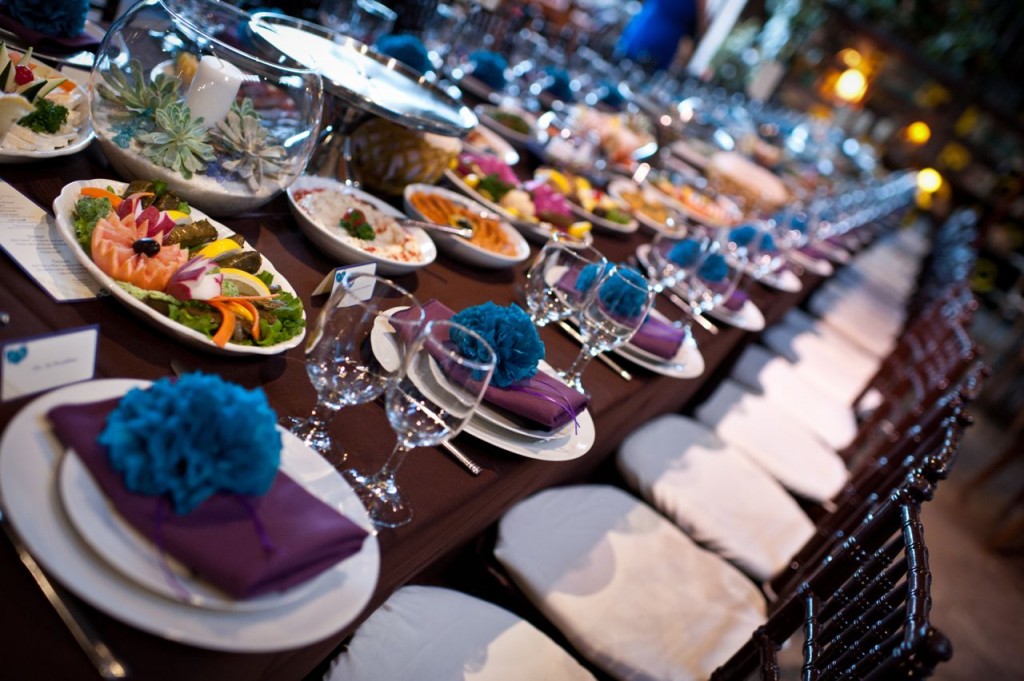 When planning a special event, think about what you want your guests to remember. The food they ate or the shared experience of eating together? The food service style you choose will be as important as the food itself. The most common choices to consider are: a timed dinner service with individually plated meals; a buffet; or family style service.
While each service style lends a different mood to your event, family style service is the best choice when you're bringing friends and family together to celebrate.
What is Family Style Service?
With Family Style Service, multi-person portions are served in large platters to your guests' table to share among everyone. Just like at a big family dinner, everyone at the table serves themselves, choosing what they want to eat, and how much.
Benefits of Family Style Service
Family style service offers many advantages to you and your guests, making it an easy choice for events large and small.
More food choices. With family style service, you can serve several main courses to each table and your guests can eat from each one. With a traditional plated dinner service, your guests are limited to one main course option.
No waiting, no strict time-tables. No one likes waiting, especially for food. But no one wants to miss out on the party because of a timed dinner service either. Family style service avoids long buffet lines and gives your guests the flexibility to decide when they want to eat.
More intimate, friendly atmosphere. "Pass the bread! Pass the salad!" A family style service will recreate the atmosphere of dinner around a kitchen table. The simple act of passing food around the table promotes socializing and brings everyone closer together.
Anoush Catering specializes in Family Style Service. We started as a family business after all, and took what we knew to be true around our family's dinner table to our banquet halls and ballrooms. With over 26 years of experience, we've perfected the art of family style service. Our menu options are specifically tailored to complement family style dining and sharing.
So for your next celebration, get your guests sharing food and memories around the table with Anoush Catering's family style service.