by Vrej Sarkissian, CEO of Anoush Catering
"Roses are red.
Violets are blue.
Pile them on your plate,
Because they're all edible, too!"
At weddings and special celebrations, fresh flowers always take center-stage in decor and centerpieces. But they deserve a place in the kitchen and on your guests' plates.
Not only visual garnish, edible flowers can add subtle and unexpected flavors to dishes: sweet and perfumey, slightly bitter, or nuanced renditions of the plant or vegetable they come from.
We love using flowers at Anoush Catering, especially when crafting our hors d'oeuvres. Some of our favorites include micro versions of familiar backyard blooms like pansies, violets and orchids, and even savory herb blossoms from chives, basil and garlic.
Flavors of Edible Flowers
If you're curious about incorporating fresh flowers into your own kitchen adventures, start with the following. And be sure to check out a flower guide or online resource to avoid potentially poisonous blooms.
Chive blossoms: Strong spicy-onion flavor. Garnish dips or bite-sized snacks.
Fennel flowers: Sweet and licorice-like flavor. Excellent addition to salads.
Hibiscus: Can be sweet to mouth-puckeringly tart. Use in iced teas and lemonades.
Lavender: A floral, perfumey, and slight lemon flavor. Wonderful with rich buttercream frostings.
Pansies: Mild minty, grassy flavor. Decorate cakes or freeze into popsicles and ice cubes.
Rose petals: Perfumey, sweet and very fragrant. Another great addition to desserts and drinks.
Violet: Very sweet and floral. Amazing in teas, desserts, and jellied into preserves.
Edible Flowers for Entertaining
For party-ready snacks that'll pack a visual and palate punch, try these easy ideas.
Recreate the flower "tile" cookies with shortbread or sugar cookies coated with white royal icing. Press a blossom into the still-wet frosting and let set.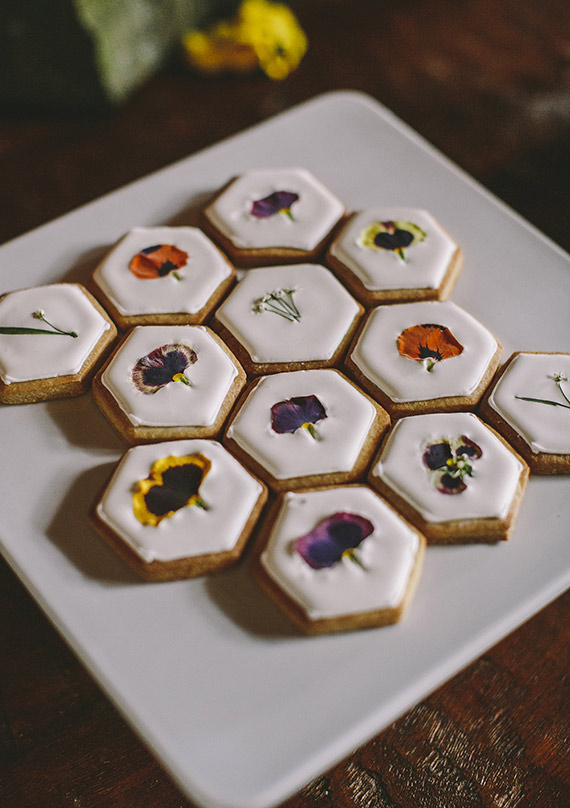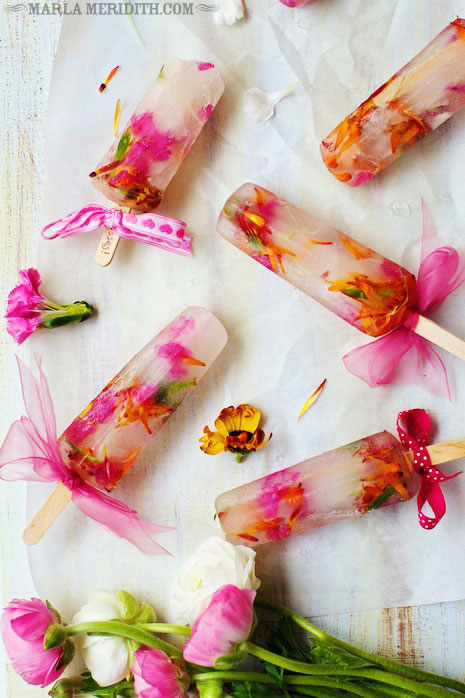 Drop fresh flowers into popsicle, ice or lollipop molds. Flavor popsicles and lollipops with flower extracts and syrups. Rose and orange blossom water would be a nice touch and is widely available in Middle Eastern grocery stores.
Finding Fresh Edible Flowers
Your backyard can be a great source of fresh, edible flowers with a few important restrictions. Pick flowers that haven't been sprayed with herbicides or pesticides, and only those grown with natural fertilizers. If your pets or neighborhood wildlife use your yard as a commode, it's best to leave those flowers off your menu.
Gourmet supermarkets and even local farmers markets also carry fresh and often organic edible flowers. And online retailers like Marx Foods will overnight ship you seasonal blooms.
As long as the flowers you choose are fresh, safe to consume, and chemicals free, you really can't go wrong. Get creative and let us know on the Anoush Catering Facebook page the new uses for edible flowers you come up with!
Images via 100 Layer Cake, Family Fresh Cooking and Sprinkle Bakes.