Amidst a well-rounded mix of friends, colleagues, dignitaries, members of the Armenian community, organizations, LAPD, and federal/ state/ local agencies, we were honored to host the official retirement party for LA Sheriff Lee Baca at Brandview Ballroom.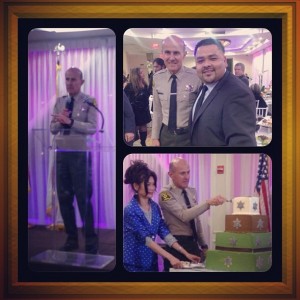 Though his decision to retire came as a surprise many residents, an impressive turnout of nearly 400 guests gathered for the family-style dinner service, prepared by Anoush. Guest speaker Carmen "Nuch" Trutanich gave an inspirational speech, and Baca captivated attendees with his own dialogue about the decision.
We served up a variety of Mediterranean appetizers, like vegetarian stuffed grape leaves, beet salad, and eggplant spread. (Which we love so much, we refer to it as "eggplant caviar".) Entrees included baked salmon filet, saffron chicken, and our personal favorite, julien flambee. (A cheese and mushroom dish that's lit on fire and service hot to each guest.)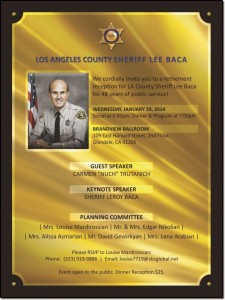 On behalf of our team at Anoush and LA Banquets, we'd like to thank Sheriff Baca for his years of dedicated service!