by Vrej Sarkissian, CEO of Anoush Catering
With the sun shining approximately 360 days out of the year in Southern California, rain is rarely a threat for outdoor weddings, but uncomfortable heat is a worry. As we head into the summer months and the temperature climbs, you'll want to keep your guests cool and hydrated as they celebrate under the sun. But just because you're outdoors, doesn't mean you have to be casual. I turned to Anoush's culinary director Jean Paul Peluffo for sophisticated summertime dishes and drinks that go beyond the usual backyard bbq fare.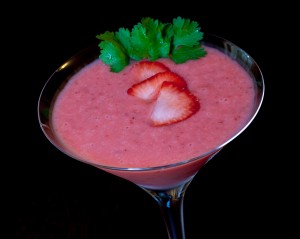 Bottoms Up: Cool and Colorful Drinks
Your guests will need plenty of nonalcoholic drink options to stay cool — cocktails don't hydrate, so margaritas and mojitos don't count.
Jean Paul suggested swapping ho-hum iced teas for agua frescas, blended mixes of fruit juices, flowers, grains and spices popular in Mexico and Central America. "They are really perfect for summer because so many of the fruits are in season and they are so colorful and refreshing."
Ornate glass jars of brightly colored agua frescas not only provide icy cool drinks for thirsty and hot guests, but serve as an elegant decor element as well. Pick flavors that will coordinate with your color scheme for maximum impact:
Pink and red: watermelon passion fruit or hibiscus flower (known as flor de jamaica)
Yellow and orange: peach mango or pineapple
Green: cucumber basil
White: horchata (a mix of rice, milk and spices) or coconut lime
Chilled Soups: Low on Temperature, High on Flavor
Since heat tends to sap appetites, it's important to keep meals light and fresh. We're all familiar with gazpacho, but Jean Paul offered up two unusual chilled soups that'll blast the traditional tomato based stuff right out of its bowl.
Your guests might be fooled by the familiar hue and expect tomato, but one spoonful of a chilled strawberry soup topped with yogurt will leave them pleasantly surprised.  Equally good for an appetizer or dessert, this soup combines pureed sweet strawberries and a hint of citrus with the tang of fresh yogurt.
Or try a new spin on the familiar combination of melon and cured meats:  cantaloupe gazpacho served with smoked duck breast shaving. "The savory, rich taste of the smoked duck pairs so well with the sweet and bright flavor of the cantaloupe," raved Jean Paul.
With a menu of dishes and drinks this refreshing and sophisticated, your guests won't be sweating the heat at your outdoor wedding.
__