by Vrej Sarkissian, CEO of Anoush Catering
The calendar says June, but looking out my window these past few mornings, it might as well be November with all this thick cloud cover. But every year, just as I begin to lose hope that I'll never see another sunny morning, Southern California bakes in a heat wave that has me praying for the fog to return.
June gloom or not, the official start of summer is just a few weeks away. As temperatures climb, you'll need to keep your guests cool at your outdoor event this summer. My last post covered refreshing summertime food and drinks for your outdoor wedding. This time, I'm sharing a few tips on keeping your venue and guests shaded and cool during an elegant garden party or seaside nuptial.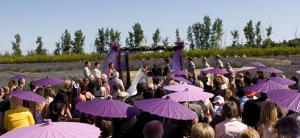 1. Umbrellas aren't just for rainy days
If you're swapping vows in an outdoor unshaded area, or you don't want to obstruct scenic views with tents, give your guests colorful paper parasols. They'll provide invaluable shade from the sun and the bursts of color will add a stunning visual element to your event. You can even personalize the parasols with your name, wedding date, or a favorite quote for guests to take home as wedding favors. Plus they make a great photo prop!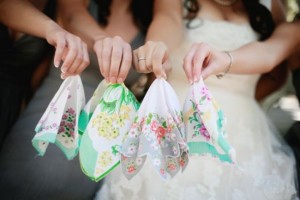 2. Give your guests a hand…kerchief
Stock up on vintage handkerchiefs…they'll come in handy to mop up tears of joy and sweaty brows. Check out eBay, Etsy or local swap meets like Pasadena City College's monthly flea market.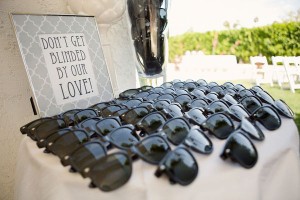 3. Shady business
Your guests probably aren't used to grabbing their sunglasses when heading out the door in cocktail attire, so they may have forgotten to bring their shades. You can save the day, and their sight, by purchasing simple UV-rated sunglasses in bulk and setting them out. Witty sign, like the one pictured above in Style Me Pretty, is optional.
4. Water, water everywhere
If you're expecting triple-digit temperatures the day of your event, you'll need to do some extra prep work. While you wouldn't want to hose down your guests (unless it's a 4th of July pool party), a gentle mist of water will cool things considerably. Rent large misters and set up cooling stations at your venue or provide battery-powered handheld fans with misters to your guests. (If your budget allows it, set up an air-conditioned tent for your reception, too.)
A few steps of preparation will keep your guests free from perspiration at your outdoor wedding or event this summer. And looking out my window now, the June gloom is already burning away.