When it comes to choosing the type of cuisine that you'd like to serve at your wedding reception, the possibilities are nearly endless. Do you choose a classic menu with a meat and a fish choice? Do you offer your guests a buffet-style dinner with several choices? How can you be sure that all of your guests will enjoy what you choose to serve?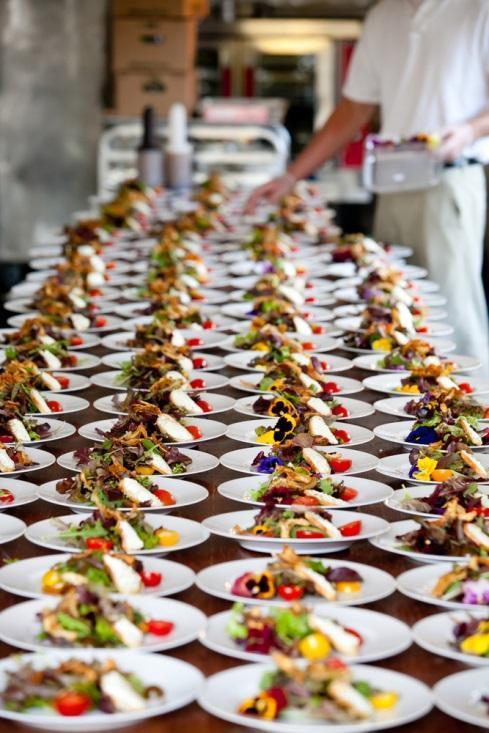 One of the best things about living in L.A. is the amazing creativity of the chefs who call this city home, and the wide variety of food that is available in all corners of the Southland. Whether you have an appetite for Thai food or you feel like diving into a juicy burger, you can find it here at any hour of the day or night.
Choosing something delightfully different for your reception might seem challenging, and it's certainly easy to stick to a tried and true, yet often uninspired, menu. However, if you'd like to serve your guests something unusually delicious for your big day, then you're certainly in the right city for it. Tell your wedding planner that you'd like to investigate some offbeat menu choices for your reception, and let your imagination run wild.
Captivating Canapes and More
Some people might view hors d'oeuvres and canapes as a holdover from parties of the past when shag carpet was still popular and Jimmy Carter was president. The art of creating the perfect small bite has been greatly improved in recent years, and the selection of a wide array of finger foods for your reception is a fun and inventive way to highlight the food. As guests are free to mingle and select their canape choices from circulating waiters, this creates a fun and interactive way for your guests to enjoy your reception.
Many classic entrees can be reinvented as small bite plates. A deconstructed beef Wellington featuring a small slice of filet on perfectly cooked puff pastry is an extremely popular choice. If you feel that a shrimp cocktail hors d'oeuvre is a little dated, why not ask your catering chef to update that classic? The shrimp could be wrapped in pancetta and served with a spicy fruit salsa. The choices are endless when it comes to this type of cuisine, and your guests will certainly enjoy the variety of choices that come with a canape and hors d'oeuvre menu.
Go International
Another alternative to a standard reception menu might be a foray into international cuisine. Our Anoush chefs are highly experienced in a variety of ethnic cuisines from all over the world. No matter the part of the world or the culture that you'd like to highlight with your reception cuisine, we can create a menu that will showcase foods that reflect your heritage or a part of the globe that holds special meaning for you and your loved ones.
A great way to feature an international menu could be to focus on the food of your honeymoon destination. If you're jetting off to Hawaii, feature an island-themed menu with roast pork and a variety of seafood dishes. The sumptuous cuisine of Thailand or India is the perfect way to highlight a south Asian getaway, or feature a taco bar if you and your new spouse will be jetting off to sunny Mexico.
Be sure to feature regional cocktail specialties at your reception, as well. In addition to the standard beer and wine choices, your guests will enjoy toasting to your happiness with a cocktail that evokes the spirit of your honeymoon destination.
Breakfast, Anyone?
While a morning wedding might be a little nontraditional, it's certainly not unheard of. Some couples choose to hold their ceremonies in the morning hours then host their reception at midday. This opens up a wonderful opportunity to serve your guests a delicious brunch menu, which they're sure to enjoy.
A champagne brunch menu is perfect for a wedding reception for several reasons. The food that is usually served at brunch is less expensive than dinner menu items, brunch choices are varied so there is something that everyone will like, and brunch always evokes a fun and festive atmosphere. You can choose a buffet-style brunch service, or your guests can choose from a menu. Either way, brunch is a fabulous way to feed your guests in style.
Even if your wedding is not held in the morning, you can still offer a breakfast menu. A late-night reception is the perfect time to offer breakfast choices for a fun change of pace. Eggs Benedict with lobster or crab, an omelet bar, or pancake appetizers are all great ways to showcase an elegant and unexpected breakfast menu. Be sure to set up a mimosa bar to further enhance your stunning breakfast service.
Choosing the type of cuisine you'll offer at your wedding reception is a great way to have fun with your plans and to highlight your personal style. While your guests are ultimately there to celebrate your wedding, and they'll likely be happy with anything you choose, it's always great to find delicious and different ways to surprise them with food. Choose a unique menu and you'll definitely find that your guests will remember your party for years to come.