Now is the time to start planning if you're thinking about having a family reunion next summer or even in the next few months. The holidays that come late in the year are supposed to be a time for families to be together, but people are often scattered with competing obligations, so it's good for everyone to know that a great get-together is in the works. Family reunions don't have to be fancy. They just have to offer a relaxing, fun time with scrumptious food, and plenty of room to mix and mingle. Read on for wonderful venues in Glendale and surrounding areas that will provide just what you're looking for.
A Get-Away Reunion That's Minutes Away
With the get-away feel of a private retreat without leaving town,
Middle Ranch
is a breathtaking wide-open space nestled in the Angeles National Forest just minutes from the heart of the San Gabriel Valley and the cities of Pasadena and Burbank, as well as Santa Clarita. This 650-acre equestrian training center features lush green lawns, sweeping views, and a simply unparalleled setting for your family reunion.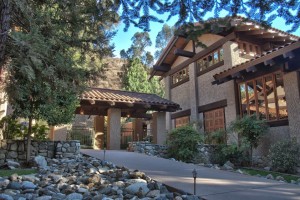 Plan a day of outdoor activities for everyone, let the kids play games on the expansive lawn while the adults sip refreshing cocktails and chat on the patio, or begin the festivities in the lodge's reception room with its massive stone fireplace. Whatever you imagine will be brought to life by Anoush's creative staff. Lunch or dinner for up to 150 guests can be served outdoors on the patio or inside the lodge. As Middle Ranch's exclusive catering partner, Anoush will provide a meal to match the ambiance whether you want a relaxed buffet or fine plated service. Available only from June through mid-October to take advantage of the season's perfect weather, Middle Ranch hosts only one event per day to give you all the time you need to customize the location and ensure the whole family full access to the stunning grounds.
A Family Reunion Under the Open Sky
The
Brandview Patio in Glendale CA
is just the spot to get together under the sun or stars in contemporary, casual style and with lots of room for the kids to have fun. This spacious outdoor deck accommodates up to 100 guests and can be arranged to suit whatever you have in mind. Your plans can include buffet or plated service at round tables, cozy lounge seating, and even a bar set up to dispense ice cream sundaes. The patio's fountains add soft ambiance to the background, but the sky is literally the limit for adding musical or other entertainment. There's even a fire element to warm any late-evening breeze, and hookah is available, too. Located at the historic Art Deco-inspired Huntley-Evans building in downtown, the Patio is a unique and tranquil setting convenient
banquet hall in Glendale CA
, close to everything yet high above the city. As at all of our locations, the finest in Anoush catering will complement your family reunion, with service second to none. The Patio at Brandview offers Wi-Fi, a state of the art sound system, and convenient valet parking.
A Family Reunion With Old Hollywood Flair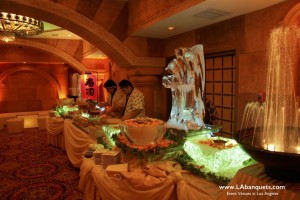 Le Foyer Lounge
in North Hollywood is pure Old Hollywood, with lavish ornamental details, tiled stone walls, spectacular carved arches, and a gently bubbling fountain. The room accommodates up to 70 guests, and can be arranged with specialty stations or one long table down the center of the room, ideal for Anoush's famous family-style service. The front of the room offers space for a stage, the ideal spot for family entertainment, making toasts, or projecting family photos.
A Relaxing Family Reunion in Your Own Backyard
If you prefer the idea of hosting the reunion at your home, but without any of the hassle, Anoush's
catering in Glendale CA
can provide the finest in location services from the delicious menu of your choice, to equipment rentals and all the special details that will customize the day perfectly for you and all the people you love. Anoush has been a family-run business for over 28 years, and we know how important family is. Trust us to help you create a reunion that everyone will enjoy.