Music is one of the most important elements of your wedding celebration. It sets the mood, energizes the atmosphere, keeps people entertained, and moves things along smoothly from your entrance to the last dance. Whether you choose to have a band or a DJ is generally a budgetary consideration, but whichever way you go, the best way to find what you're looking for is by recommendation. Think back to the best weddings you've been to, talk to your planner or Los Angeles banquet halls, and poll your friends.
The Los Angeles area is home to some of the best professional musicians in the country, and some of the hottest DJs, too, so you'll likely be overwhelmed by choices. But do it early in your process because the best musicians and DJs are often booked up to a year in advance.
If you haven't personally heard the band or DJ, find out where they're performing publically and stop by to listen to them. At the very least, see if they've got videos on their own websites or on YouTube. Don't hire anyone you haven't heard.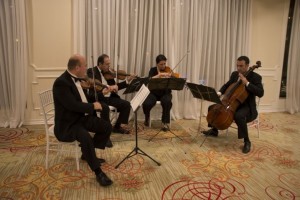 If you want live music but also want to watch your budget, think about hiring a four-piece group that plays multiple instruments. You can also arrange for one of them to play solo for your ceremony, and two to play as a duo during cocktails before the whole group gets together to play for dancing.
You can do very well contracting directly with a reputable band or DJ, but check references and trust your gut. To be absolutely confident, use a booking agency that will stand behind its reputation and be able to resolve any issues, for example, sending a replacement keyboard player if the band's guy gets sick. There are multiple options; do a Web search for "wedding music booking Los Angeles."
When it comes time to talk contract, don't forget any of these elements:
1. How Long Will They Perform?
Bands and DJs are generally booked for four or five hours, with most having minimums of two to three hours. Make sure you're clear on the time they'll arrive to set up, how long they'll play, and what time they'll conclude. Discuss contingencies like their availability and fee to play longer if the party goes on longer than you expect.
2. What About Breaks?
Musicians and DJs are only human, and need to take breaks if they're performing for hours on end. You may be able to contract for continuous music from a band, with its various members taking their breaks individually. But you'll be expected to provide dinner, too, so take that into consideration. (The dinner doesn't have to be the same meal you're serving your guests, and catering service in Los Angeles will generally offer a separate space for performers to take a break and eat.)
Some bands bring an iPod or laptop loaded with music to play while the whole group is on break; alternatively, the venue may have a music system that can play your own CDs. DJs can, of course, provide musical selections to cover the time they're not on stage. But work out the break times so they don't occur just when you plan to cut the cake.
3. Tech Needs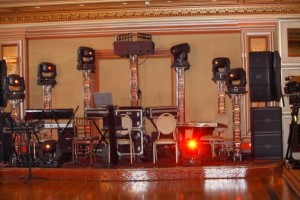 Is the band or DJ self-contained or will anything be required of the venue? There can be questions about stage size, electrical outlets, extension cords, hook-ups to the venue's equipment, requests for chairs or side tables, or other technical requirements. It's often best to put the venue's representative in touch with the bandleader or DJ directly so everyone's questions get answered appropriately.
4. Playlist and Emcee Duties
These are two areas you want to be very specific about. Discuss precisely what music you want played (or don't want played) and when in the evening you'd like it. If there's a special song or musical selection you want and the band isn't familiar with it, be assured they will learn it, and if any additional fee will apply. Talk about what spoken part you'd like the bandleader or DJ to play in the reception, and if you'll be providing a script, find out when you've got to submit it.
After you've figured out the timing and details of the evening, write everything down for the bandleader or DJ, including phonetic spellings of any difficult names that will be announced. Specify a person in your bridal party to communicate with the bandleader or DJ if necessary during the evening. This is especially important if the band gets carried away and starts to play too loudly.
5. What Will the Band or DJ Wear?
Find out what they typically wear, and if that doesn't fit your style or the tone of your wedding, discuss what options are available.
6. Dot the I's and Cross the T's
Before you sign a contract, read it over carefully and check all the numbers. You'll doubtless have to make a deposit, but find out what cancellation policies are, when final payment is due and what form of payment will be accepted. Some bands require full payment as early as ten days before a wedding.
If you've made all these arrangements a year or many months ahead of your wedding date, call the bandleader, DJ, or booking agency two months before the wedding to confirm every last detail. Then call again a week before the wedding to make sure everything is on track. Better to catch any issues early than find out just as you're about to walk down the aisle.