It's that time again. You love the holidays and you love your friends and relatives, but you've been hosting that same party in your home for 20 years, your guest list is growing, and it's going to take a week of shopping and cooking to do it again. With everything else you have to do and want to do during this busy season, it's starting to feel like a chore instead of a good time. Maybe this is the year to start a new tradition. Refresh yourself and your menu by bringing some dishes in or letting a
catering service in Glendale CA
work their magic. It doesn't mean you can't make some of the favorites that your family always looks forward to, but it does mean that you won't be too tired to enjoy the festivities yourself. But if you choose to go with catering, be aware that convenient to-go options are available. Above all, to keep stress out of the picture:
Start your planning early.
Keep one running list so you can jot things down as you think of them and not on scraps of paper and sticky notes all over the place.
Make it easy on yourself. Even if you're doing all the cooking, you don't have to make everything single thing from scratch. Buy the walnuts already chopped and the salad greens already clean and mixed. Frozen filo dough is every bit as good as the homemade kind that takes a couple of hours to make.
Customize Your Menu to Your Guests
Whether you're having finger food or a full dinner buffet, you want to lay out enough choices to appeal to every guest. That means a selection of dishes without meat, and even some that are entirely vegetarian. Regardless of how you feel about your cousin's resolve to eat only raw food, or your best friend's diet of the week, you want them to feel welcome in your home. Every region of America and every part of the world has its own special foods that say holiday to the people who grew up with them. If it is your family's custom to serve turkey, glazed ham, pork tenderloin, roast goose, a standing rib roast, leg of lamb, braised brisket, oysters, a whole fish, lasagna, or some other specialty, absolutely plan to serve it up as the centerpiece dish. Then decide what you'll be happy
not
to make again this year. It could be time to retire the side dishes that take a day and half a day to prepare and never did taste the way you remember your grandmother making them anyway. Would other family members like to give them a try? Maybe you can buy good quality prepared versions that will save everyone the work. Fortunately, you can find even the most exotic food in the Los Angeles area.
Leave Room for Dessert
One thing you don't want to run out of is dessert. Whatever your tradition, the sweets always come out for the holidays. And for this your choices are limitless. Bake if you must, but otherwise, consider the offerings of a good bakery.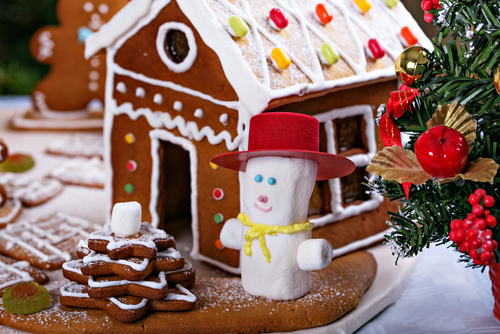 Buy plain sugar or butter cookies (the ones that come in refrigerated tubes are just fine) and set up a decorating station for the kids. Gingerbread houses are fun to decorate, too. Buy a plain one and let everyone pitch in with an array of frostings, candies, and other edible decorating supplies. You could even have a drawing to see who takes home the finished masterpiece. Set up a hot chocolate bar for the younger set, with marshmallows, crushed candy canes, whipped cream and sprinkles. For the adults, add a bottle of Bailey's or Kahlua.
Set the Table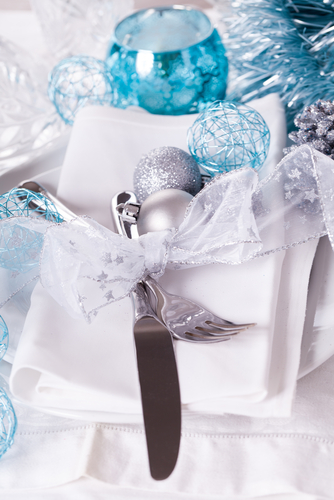 The night before is the time to set the buffet table. The pros do it with risers in varying heights. It not only adds to the visual appeal, but it actually allows you to put more food out on the table. You need two tablecloths, but you don't need special equipment; sturdy boxes, phone books, and inverted cake pans will do, just as long as platters can sit on them without wobbling. Put one tablecloth on the table and arrange the risers on it. If people will be walking around the table, place the tallest pieces along the center; if the table is against the wall, place the tallest pieces in the back. Now drape the second tablecloth over the risers and form it around each one, arranging the excess gracefully. Do a trial run with the platters and bowls you plan to use, and once you like the way it all looks you can take the serving pieces back to the kitchen. Leave yourself notes on the table ("plates," "baklava") to remind you where each dish is supposed to go as well as the serving spoons or forks that go with them. Most
banquet halls in Glendale CA
will take care of all this before you arrive.
Remember to Relax and Have Fun!
Start party day with a few minutes to yourself. If you start rushing around the minute you get up, by the time your first guest rings the doorbell you'll be a wreck. Take everything one step at a time and don't sweat the small stuff. As long as the house is reasonably clean and clear of clutter, there are enough places for people to sit, the food is yummy, and the hostess is smiling, your party is going to be a success.