by Vrej Sarkissian, CEO of Anoush Catering
While a cocktail hour may not be high on your wedding day priorities, its relaxed atmosphere, good food, and even better drinks make it a favorite for guests. With a few simple tips, you can pull off a cocktail hour that will be enjoyed by all. Let your guests nibble on gourmet hors d'oeuvres and warm up for the reception.
Signature Drink
Let your creative juices flow when crafting a signature drink for your cocktail hour, but keep it simple! A cocktail with no more than 4 or 5 ingredients ensures your bartenders can shake up the drinks fast enough to keep your guests from waiting.
A Well-Stocked Bar
It's not a cocktail hour without drinks! Besides a signature drink, you'll also want to have plenty of vodka (it's always a popular choice), gin, whiskey, cognac and rum on hand. Aim for a few types of wine, perhaps two white wines, one red, and one sparkling. And for beer lovers, stock a few cases of medium ales or lagers if you're not going the custom craft beer route.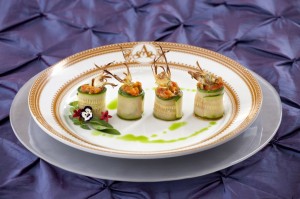 Hors d'Oeuvres
The cocktail hour is the perfect opportunity for adventurous food choices. Skip carving and buffet stations in favor of passed hors d'oeuvres. Since portions are small, flavors can and should be bold. Arrange a mix of meat, fish, vegetarian and even dessert offerings. Just make sure guests won't need utensils to enjoy the fare.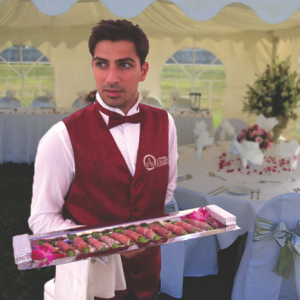 Servers
Passed hors d'oeuvres will keep your guests mingling instead of crowding around a station to pick up a salmon crostini or charcuterie bite. You'll need one server per 25-30 guests to keep food flowing out of the kitchen and into guests hands at a good rate.
Seating
Even though it's technically only an hour, your guests will want to sit for a minute–or rest their drinks–to enjoy their handheld bites. Arrange low tables with chairs around the perimeter of your event space, and high bar tables without stools in the center.
Music
Music during the cocktail hour should be pleasant, but not so loud as to interfere with conversation. Bring in musicians like violinists and harpists for an elegant and lively set. As the bride and groom, use part of the cocktail hour to take photos, or even better, steal away for a few private moments of alone time with each other. If your venue provides a bridal suite, use the time to rest and freshen up for the reception ahead. But be sure to emerge towards the end of the cocktail hour to enjoy a few laughs, drinks, and hors d'oeuvres with your family and friends before the reception begins!