A wedding is an emotional time, and nothing has the power to evoke that emotion more than music. It's all-important in setting a mood, and in turns can elicit reverence, reverie, joy, and just plain fun. The music you choose is going to create the tone for the ceremony and everything that comes after it, so the first thing to decide is whether you want to stick to tradition or put a more contemporary spin on things.
Start by considering your venue. Traditional music is beautiful in any setting, but if you're inclined to walk down the aisle of a house of worship to James Brown instead of Johann Bach, you'd best check to see if it's acceptable. If you aren't having a live performance, you can find classical pieces recorded by orchestras, string quartets, solo cello, harp, guitar, and other variations to suit your style. Spend some time on YouTube to help you decide what you like. Anoush offers many different banquet halls in Glendale CA for all your needs.
Music for Your Ceremony
Prelude: Selections to be played while guests take their seats. Classical choices will set a soothing mood and a sense of ritual to come. Some of the loveliest of these are "Prelude in C" (J.S. Bach), "Clair de Lune" (C. Debussy), "Gymnopedie" (E. Satie), and "La Primavera" and "L'Autunno" from The Four Seasons (A. Vivaldi). Gorgeous contemporary choices are "Romeo and Juliet: Love Theme" (N. Rota), the theme from "Somewhere in Time" (R. Cervantes), and The Piano Guys' instrumental cover of Christina Perri's "A Thousand Years."
Processional: As this music begins, the officiant and groom enter, and the bridesmaids and groomsmen make their way down the aisle. Some traditional choices are "Trumpet Voluntary" (J. Clark), "Trumpet Tune" (H. Purcell), "March" from "Occasional Oratorio" (G.F. Handel), and "Jesu, Joy of Man's Desiring" (J.S. Bach). The Bach piece can be found in standard versions as well as with vocals by Josh Groban and by Celtic Woman.
Bride's entrance: This is the big one! Traditional choices are "Canon in D" (J. Pachelbel), "Allegro Maestoso" from "Water Music" (G.F. Handel), "Trumpet Voluntary" (J. Clarke), and "Rondeau" (J.J. Mouret), which is used as the theme for Masterpiece Theatre. You may want to avoid "The Bridal Chorus" from "Lohengrin" (R. Wagner) unless you'd like people to start singing "Here Comes the Bride" under their breath; it's an almost automatic response to this very familiar, over-used selection.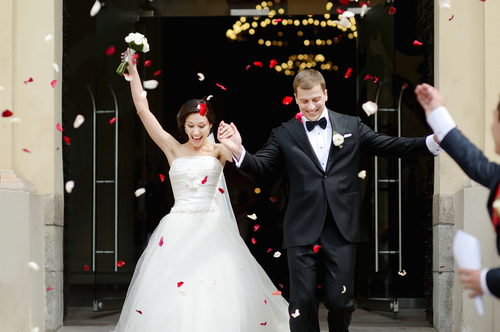 Recessional: Conclude the ceremony with a grand exit. Traditional options are "The Wedding March" from "A Midsummer Night's Dream" (F. Mendelssohn), "Ode to Joy" (L. Beethoven), "Hornpipe" (G.F. Handel), and "Arrival of the Queen of Sheba" (G.F. Handel). Or, if you're of the mind, "Signed, Sealed, Delivered" by Stevie Wonder brings its own kind of exuberance.
Postlude: Keep the music playing as guests depart. Maintain the mood with the buoyant notes of the recessional or segue to Israel Kamakawiwo'ole's ukulele version of "Somewhere Over the Rainbow" or Ray Charles singing "It's a Wonderful World."
Music for Your Cocktail Hour and Dinner
You want everyone to be able to hear each other as they're talking and eating fabulous food from the wedding menu you've chosen, so think about music that's mellow, melodic, and doesn't overwhelm. This is the time to play the old standards, classic jazz, and any music you love that doesn't quite fit the bill for dancing. Crooners like Nat King Cole and Tony Bennett (with or without Lady Gaga), Simon and Garfunkle, k.d. lang, James Taylor, Norah Jones, Michael Buble, John Legend, the smooth harmonies of Motown, and any others you find soothing; the options are vast.
Your First Dance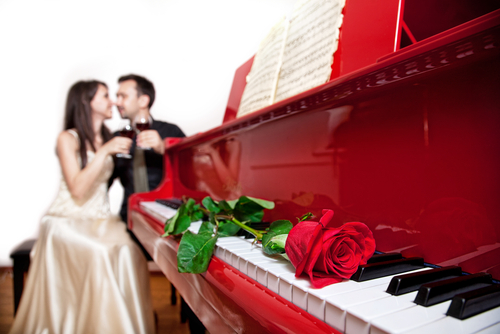 You may have had "your song" since the first time you went out with each other, but if you don't, or if it doesn't lend itself to the occasion, you might be inspired by these choices: Elvis Presley's "I Can't Help Falling in Love With You," Anne Murrays' "Could I Have This Dance for the Rest of my Life," Blake Shelton's "God Gave Me You," Joe Cocker's "You Are So Beautiful to Me," "At Last" sung by Etta James or Lou Rawls, Frank Sinatra's "It Had to be You," Barry White's "You're My First, My Last, My Everything," Bruno Mars' "Rest of My Life," or "Lucky (I'm in Love with My Best Friend)" sung by Colbie Caillat and Jason Mraz.
Dances With Your Parents
There are some very popular songs that lend themselves to the sentimental moments when the bride dances with her father and when the groom dances with his mother, and there certainly won't be a dry eye in the house if you choose "Sunrise Sunset," "Butterfly Kisses," "Dance With My Father," "I Loved Her First," "You're Gonna Miss This," "Wind Beneath My Wings," "What a Wonderful World," or any one of the several dozen others you can find listed online. You could also go in an unexpected direction and decide to rock out, go country, or salsa with a song that has special meaning for you and your parents.
Get Everyone up and Dancing
This is where your playlist will get a workout. You want music that will appeal to every age, so pay special attention to lyrics that might not be appropriate. Pharrell Williams' "Happy," Bobby McFerrin's "Don't Worry Be Happy," Kool & the Gang's "Celebration," Sister Sledge's "We Are Family," Kenny Loggin's" Footloose," or Bob Seger's "Old Time Rock and Roll" will get people up and out of their seats. Mix it up with whatever you love; some fast, some slow. You can give your bandleader or DJ a "don't play" list, but if there's a clamor for the "Macarena," "YMCA," or the "Chicken Dance," just give in to it. People love that cheesy stuff.
Your Last Dance
End the evening on a sweet note with a song that says it all: Johnny Mathis' "Twelfth of Never," Sinatra's "From This Moment On," or the Barbra Streisand or Linda Ronstadt version of "What Are You Doing the Rest of Your Life?" If you want to close on a wink, choose Eric Clapton's "After Midnight."
For many more traditional and contemporary selections, check the lists at songsforawedding.com, topweddingsongs.com, and ourweddingsongs.com. You can also find the DJs' insider list of the 200 most requested dance songs of the past year at mobilebeat.com.