Whether you're planning a sweet sixteen, a quinceañera, a bar or bat mitzvah, a graduation party, or another celebratory event for teens or tweens, food is going to play a big part. You want to serve something the kids will like but don't want to bring out the same food they can find at the mall. On the other hand, you're afraid that more sophisticated food will be left on their plates. Relax. While most kids would never turn down a French fry, they're a lot more adventuresome than you'd imagine when it comes to eating. The trick is to serve exotic foods in small bites so they're free to taste but not be overwhelmed by a full dinner plate of something they may be unfamiliar with. The
catering service in Glendale CA
 will be happy to help you come up with the perfect menu for your teen's celebration.
Give Them Lots of Choices
Teenagers and younger kids like to pick and choose what to eat. They like things they can serve themselves, such as finger foods and dips. And they like to be active, dancing or participating in whatever other activities you've got going. Sitting at a dinner table for three courses isn't usually a whole lot of fun for them. Buffet stations are probably the best idea. If a lot of adults will also be at the party, family-style service is an option; kids can take what they want and try a bite or two of everything else. Or you can design a combination: a buffet for appetizers, a family-style entrée, and back to the buffet for a choice of desserts.
Choosing the Perfect Menu
For a party celebrating a religious or ethnic event, you'll certainly want to serve some traditional foods and family favorites. It's a great opportunity to introduce guests to specialties they've never had before. For a buffet with food some people might not recognize, you can create small signs that tell browsers what the different items are called and what's in them.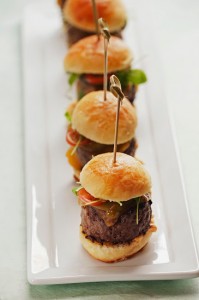 Foods typically served as appetizers are already bite-sized: spanakopita, crostini, or bruschetta with a host of different toppings, bacon-wrapped dates, mini crab cakes, cheese puffs, pot stickers, spring rolls, cheese beoreks, tiny potato skins done up like their loaded big brothers, chicken wings, mini-meatballs in sweet-and-sour or barbecue sauce, stuffed mushrooms, empanadas, jalapeno poppers, sushi, and so much more. Anything that can be made in full-size versions can be miniaturized: fried chicken and waffle bites, individual glasses of seven-layer dip, little quesadillas, samosas, mini falafels. Sliders are just miniature hamburgers, but they can also be made with grilled chicken tenders, brisket, carne asada, or pulled pork. And don't forget the variety of fillings you can put in wraps, cones, and roll-ups. Almost anything you can skewer or put on a stick is going to be a crowd-pleaser: chicken satay with peanut sauce, Italian salami with mozzarella cheese and green olives, grilled beef or lamb, tortellini and roasted red pepper, berries and melon balls, even all the ingredients of a club sandwich; there's really no limit to the options. Add a beautiful platter of fresh vegetables with dips like blue cheese, guacamole, tahini, hummus, baba ghanouj, and tzatziki, or a bountiful salad bar, and who could ask for more? If a lot of young children will be in attendance, consider a special buffet for them. Mini grilled cheese sandwiches, taquitos, pigs in a blanket, little cups of macaroni and cheese, chicken drumettes, string cheese, and sugar snap peas and carrot sticks with a dip are all fun and easy to eat.
Delightful Dessert and Drinks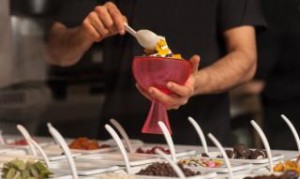 For dessert, everyone loves a sundae with a tableful of toppings they can put on by themselves. You could even rent a soft-serve ice cream or frozen yogurt machine. There are a number of vendors in Los Angeles and most other areas who will deliver a machine complete with ingredients. You or your caterer just have to plug it in an hour before you want the frozen treats to be ready. Lay out the syrups, sauces, nuts, sliced fruit, candy bites, cookie crumbles, whipped cream, and let everyone go to town. You could also have a dessert buffet with two-bite cupcakes, cream puffs, cookies, churros, baklava, rugelach, whatever says celebration to you. The guest of honor and friends might enjoy the delicious drama of a chocolate fountain, too. You won't be serving alcohol to the kids, but you could set up the bar with soft drinks, sparkling fruit juices, and flavored waters. Fancy them up with maraschino cherries and slices of lemon, lime, orange and pineapple, or top them with paper umbrellas. What fun!