A new year brings new ideas for entertaining, so here are a few that you might like to incorporate into your plans. Even the most accomplished hosts and hostesses can freshen up their repertoires to keep their guests surprised.
Smaller Portions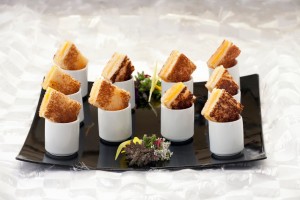 From all accounts, mini-food will continue to be the trend to beat in 2015. Tapas and "small plates"have been popular restaurant fare for years, but now they've moved into large-scale events, weddings, and home entertaining, too. It's not that people are serving less food, but that they're offering more variety, and the way to do that is by having smaller portions of more kinds of dishes. We're not talking about the hors d'oeuvres that are typically served in one or two-bite sizes. The idea is to have full-size flavors, sometimes quite complex, but in tiny portions. The key to serving what would be the entrée this way is the presentation; imagine a little spaghetti nest topped with a mini meatball and sprinkled with Parmesan cheese, a seared scallop on a tiny risotto cake, mini tacos and pitas filled with exotic flavors, petite pot pies, gem-colored soup served in glass demitasse cups garnished with a few delicate pea tendrils, or a cube of roasted lamb bedded on Persian rice in a porcelain spoon. Offering a dozen or so different items gives guests the opportunity to eat whatever suits them, as well as the chance to try things they might find daunting in a full-size version. Serving this way also lets guests mix and mingle instead of committing to an hour or more seated at the dinner table. And nothing's better than a perfect tiny morsel for guests who can't resist snapping a photo to share on Instagram or Twitter.
Different Venue Setup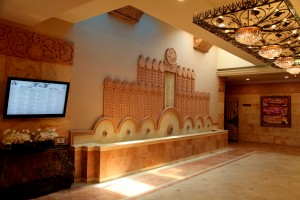 If you're thinking that none of this sounds like a conventional sit-down dinner situation, you're right. Party planners are saying that more and more people want to entertain in a club-like setting, with comfortable lounge seating and a sophisticated but casual vibe. It doesn't mean that the service is casual, though. Whether offered on trays by waiters or displayed at food stations, elegant presentation is what makes the concept feel fresh and guests feel pampered. Anoush offers many different styles of
banquet halls in Glendale CA
and all over Los Angeles.
Food and Drink Pairings
Another trend moving out of restaurants and into other forms of entertaining is pairings of food and drink. Not just the wine and food pairings we're used to seeing, but serious dishes served with cocktails designed to bring out the best in them. It takes a creative mixologist working with a good chef to do this right, but the results will certainly keep guests engaged and entertained. Some people are even bringing the miniature concept to cocktails, with mixed drinks served in shot glasses. To make mini-food and drink pairings more fun, consider having them served on rolling carts brought through the room and to each seating area. With each cart holding one pairing, guests will have an easy time selecting, say, a mini empanada and mini margarita, or a small serving of sushi and sake. Rolling carts also work beautifully for mini desserts, bringing to mind the elegant pastry carts that were once used in fine restaurants. Bite-size cakes, chocolate mousse tartlets, and sweets of every variety make a decadent display and can be designed to fit any theme.
Family-Style Dining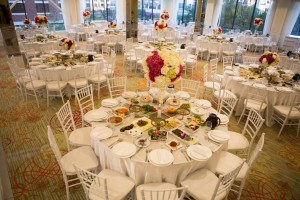 At the other end of the spectrum, family-style dining is becoming more popular for parties and weddings. There's no question that passing around and sharing platters of delicious food makes for great conversation and lets guests get to know each other. Also, in the same way that options of a variety of mini-foods gives guests the chance to customize their plates, being able to select from the bountiful choices in family style service keeps everyone happy, whether they do or don't eat meat, crave carbs, or are gluten-free. Along the lines of family style, you could borrow a drink trend that's begun in some restaurants and serve an upscale punch in one of those big glass vessels with a spigot. Far above the old 1960s ginger ale, vodka, and lime sherbet concoction, these modern punches are as elegant as fine cocktails. Sangria and margaritas are also naturals for help-yourself service.
Entertainment
Not a new idea, but one that trend-spotters say is going to be very popular, is having food preparation be part of the entertainment. With so many people addicted to all the cooking shows on television, being able to watch a chef in action on the centerpiece dish could be a lesson as well as just fun to watch. This is a particularly easy thing to arrange if you're having a catered party at home as long as your
caterer in Glendale CA
agrees. Who knows? You might create a star. As for musical entertainment, the growing trend is to have both live music and a DJ to mix things up, keep costs down, and make sure the opportunity for dancing is nonstop. Two or three musicians can do the job of a whole band if they're playing along to recorded tracks. The sound is both bigger and more personal than a record alone, and there's no request that can't be obliged.