Prom night should be a night for creating memories you'll cherish for many years to come, and making sure everything goes just right takes careful planning. An entertaining theme makes the event even more fun, especially when paired with the perfect venue and everyone's favorite foods. Pull off a stellar prom with these tips for everything from choosing a location to nailing down the details of decorating.
How Big is Your Prom?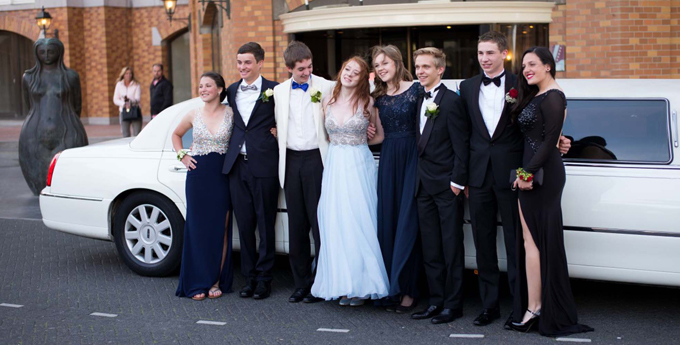 attendance all influence your party planning for the big night. In general, schools with 500 or fewer students are considered small. If your school falls into this category, your choice of venue and food should be tailored to a group resembling a graduation party. Larger schools may require locations and menus similar to those selected for weddings. Small schools may lack the budget for ornate prom themes and catered dinners. Before getting started, discuss funding with the prom committee and school administrators to determine how much you have to work with. One advantage of a smaller school is most of the students, parents, teachers and administrators know each other. This gives you a ready pool of people to ask for help with:
Chaperoning
Music
Decorations
Food
Setup and cleanup
Employing the abilities of your peers and getting assistance from talented adults can make it possible to have all the elegance of a big prom for a fraction of the price. The same considerations apply if your class size is large and you expect most of your peers to show up to dance the night away. If you're close to modern prom venues, you'll have easier access to technological perks like party lights, DJ equipment, A/V setups and contracted caterers or photographers. With these amenities nearby, it's less hassle to bring a big crowd together, ensure enough food is available and keep the music going all night long.
Choosing a Prom Venue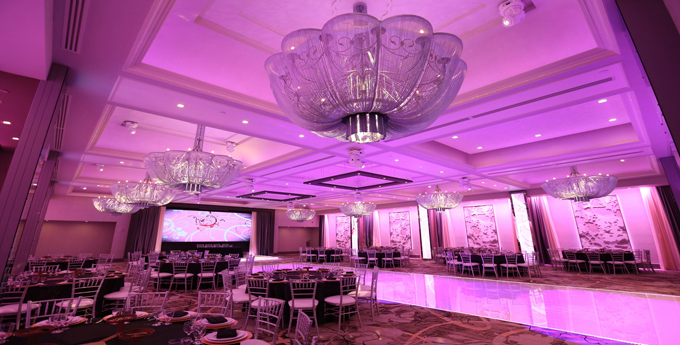 After determining the approximate size of the crowd expected on prom night, it's time to look at venues. The limiting factor here, as with any event, is location. You need to pick a spot all attendees can get to without having to travel too far. Venue accessibility depends on not only where your school is in relation to possible party spots but also the size of the area over which the student body is spread out. Rural schools tend to have students coming in from areas more remote than those in urban schools, and potential venues may be inaccessible to those farthest away. Keep this in mind when looking for the perfect place to hold the prom so that you can ensure no one misses prom due to location.
Small School Venue Ideas
Small schools often hold the prom in the gym or cafeteria. These spacious rooms are readily accessible to all students and are easy to decorate. Since you already spend part of each school day there, you have a familiar "blank slate" in which to design your prom's theme and don't have to spend extra time getting acquainted with the layout. However, many students prefer to host this special night at an outside venue. Finding an affordable off-campus space for a small group can be as simple as contacting a local community center, hotel or convention hall to find out what accommodations are available. If you have a dance club nearby, the owners may allow you to rent space for the evening and make use of onsite DJ equipment.
Places to Host Your Large Prom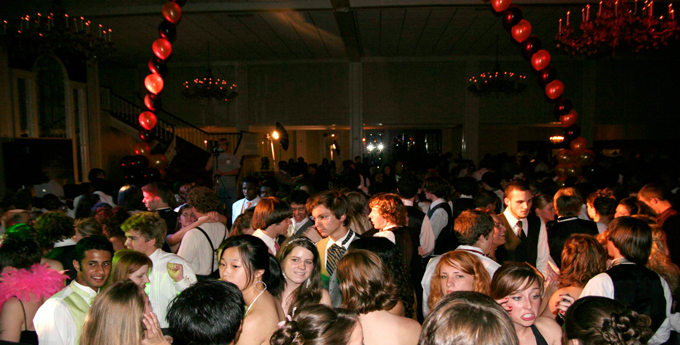 Large student bodies need spacious venues to have a comfortable, safe and enjoyable prom night. Look outside the school for options like:
Restaurants
Event halls
Convention centers
Outdoor pavilions
Parks
These or any other places where big gatherings are usually held are perfect for proms. Many already have DJs, caterers, photographers and other professionals available at or associated with the venue. Outdoor areas are lovely for proms but may present a challenge if you live in an area with unpredictable weather. If you choose to hold the prom in the open air, make sure you have either a rain date or a backup venue lined up just in case nature decides to get temperamental.
Venue Details to Consider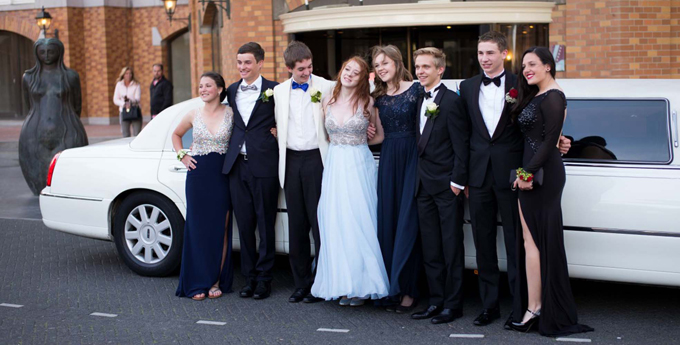 Pick three top choices from among the prom venues available, and start making calls with the prom committee. Have a list of questions handy to ask the venue managers, including:
Is the space available for the desired date of the prom?
What's the maximum capacity of the space?
What amenities are there onsite?
How much and what type of lighting is available?
Who handles setup and cleanup?
How secure is the building?
Are there preferred or contracted caterers, DJs and photographers available?
What legalities will the prom committee and the school have to address?
How much will it cost to book the space and any additional services you need?
You'll also have to pay a visit to your top venues to determine if the layout is right for your class size and is easy to decorate. Scout out where the bathrooms are located, what the seating arrangements are like and what, if any, tech equipment is available. If you find a location you really like but can't afford, talk with the owner or manager about booking a package deal. This option is often cheaper than attempting to arrange all the details separately and may allow you to enjoy a more elaborate setting for the prom.
Catering the Perfect Prom
No prom is complete without a menu you and your peers all enjoy. You have four options for serving food at the event:
Appetizer and snack buffet
Buffet-style dinner
Family-style dinner
Formal sit-down dinner
When planning for a smaller crowd, a buffet offering either appetizers or a few favorite dinner dishes is the easiest way to serve everyone. Make sure to have foods for all the prevailing dietary preferences in your class, including allergy-friendly options. Family-style serving, in which dishes are brought around to individual tables and everyone serves themselves, eliminates problems with lines that can hold up buffets. Many large proms use this arrangement or serve a dinner where everyone's order is taken in advance and delivered individually just like at a restaurant. Both of these choices are more expensive and elaborate than appetizer spreads and buffets but are often preferable when feeding large numbers of people. What should you serve? This depends largely on what dishes are popular in your region and the kinds of foods the majority of the student body likes to eat. A typical appetizer buffet may include:
Veggie and fruit platters with dip
Crackers and cheese
Miniature pizzas or quiches
Sliders
Chips or pretzels and dip
Nuts
Pasta dishes are popular as main courses for full meals because of their universal appeal, ease of preparation and relatively cheap price. Even if you have an official dinner, it's also customary to have snacks and beverages available throughout the night. For beverages, it's common to provide water, soda, punch, juice, coffee and tea. Whatever you do, don't forget about dessert. Everyone will expect something sweet to top off the meal. A dessert bar with offerings like cookies, cupcakes and colorful candies arranged in decorative dishes or on tiers is an easy way to allow everyone to choose their favorites and can easily be coordinated with whatever prom theme you choose. Presentation is one of the most important aspects of
prom catering
regardless of the size of the crowd you're feeding. The flavors of the foods you choose, the centerpiece designs and the colors and styles of table settings should all be in line with the look and feel of your chosen theme. If you're working with a caterer, make sure he or she understands all the details of the theme and is able to create a spread designed to harmonize with the other decorations.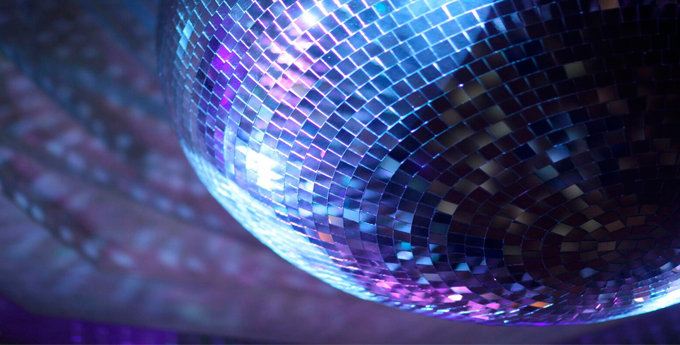 Top Prom Theme Ideas
Picking a theme for your prom is the most fun aspect of planning. While you have to be business-like when choosing venues and juggling the details of menu planning, you have the freedom for a little more creativity and playfulness with the theme. However, you do have to keep three important things in mind while dreaming up your décor:
Budget
Ease of setup and cleanup
Feasibility of the theme in your chosen venue
These guidelines will keep you on track and ensure your theme goes off without a hitch. If you already have an idea for an unforgettable prom theme, run with it. Get together with the prom committee, discuss the details and start putting your plan into action. If you're starting from scratch or panicking because you don't know what to do to entertain your peers on
prom night
, social media is a great place to get inspiration. Pinterest and Instagram offer a wealth of theme ideas, DIY decoration projects and even suggestions for outfits and accessories. Other sites, such as PromNite.com, offer complete theme packages for sale so that you don't have to worry about a single detail. Narrow your theme choices down to a few picks just as you did with venues, and allow your classmates to vote for their favorite. As with every other part of party planning, it's important to get an early start on your theme to allow time for necessary adjustments or to switch to a different idea if something doesn't work out. Use these popular theme ideas to jump-start your brainstorming.
Simple Themes for Small Proms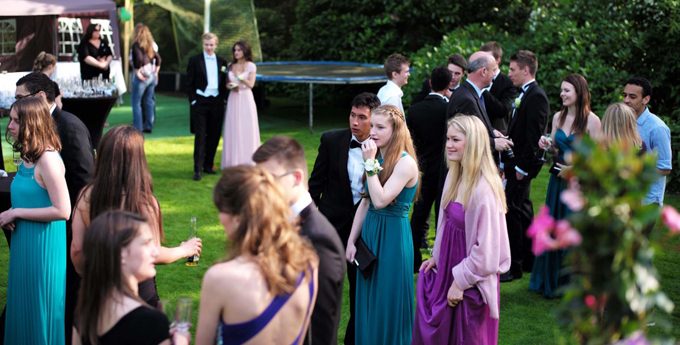 There's no need to stretch your prom budget to the limit with an elaborate theme if your school is small. You can still have a fantastic prom by sticking with simple ideas like decorating the venue with your school's colors and encouraging attendees to dress accordingly. Or use the night to highlight the "best of" of your school, celebrating the greatest accomplishments of the year or the aspects of the school students like best Enlist the help of creative people at your school to save money on decorations, food and music. Have artistic peers make streamers, paper lanterns and backdrops, and ask aspiring chefs to whip up appetizers and desserts. See if a local band will donate their time and talents for the evening's entertainment. Invest in colored string lights, balloons and a multicolored "disco ball" lamp from a local party supply store, and you'll have everything you need for the perfect small prom.
Decades
- Another easy and fun theme is designing prom night around a particular decade. Each period in recent history had its own unique styles, attitudes, music and atmosphere, giving you an instant blueprint for your theme:
1920s – Big band music, swing dancing, slip dresses, beads and sequence, fedoras and tuxedos, flapper hats and hairdos, gold accents and black décor
1950s – Jukeboxes, rock and roll music, poodle skirts and bobby socks, sharp suits and stylish sweaters, bright soda fountain colors and diner décor
1960s – British Invasion music, tie dye, peace signs, hanging beads, printed dresses, flared pants and large collars
1970s – Platform shoes, pant suits, cowl- and v-neck sweaters, disco and dance music and disco hall decorations
1980s – Big hair, new wave tunes, sweaters and leggings, bright colors, pop culture fashion, eight-bit arcade video games
1990s – Pop music, boy bands, colored lights and blacklights, tapered pants, big t-shirts and MTV culture
Once you settle on a decade, all you have to do is line up the right music, announce the "dress code" and use decorations to transport your class back in time for an unforgettable night.
Popular Parties
- If you've always wanted to attend a luau, masquerade ball or other unique party, prom night is your chance. These themes are popular choices for many high schools, making it simple to find the right décor and pull the big night together without a lot of hassle:
Carnivals – Set up well-loved games, serve favorite carnival foods and snacks and deck the venue out in bright colors for an easygoing evening.
Luau – Bring in tiki torches, lean prop surfboards against the walls, rim tables with "grass skirts," set up palm tree backdrops, give everyone a colored lei and serve beverages in coconut cups.
Mardi Gras – Concentrate your decorating efforts on purple, green and yellow, using beads, streamers, feather boas, paper lanterns and confetti to liven up the venue.
Masquerade – Turn your prom site into a mysterious castle with chandelier lighting and rich colors, and make sure everyone comes wearing a mask.
Nightclub – Brighten up the dance floor with neon lights, hire a DJ skilled with a mixer and hand out glow sticks or glow necklaces at the door.
Enchanted Fantasies
- Who doesn't love a good fantasy story? Although these types of themes are elaborate and require extra time and money to pull off, each one is noteworthy and provides promgoers with an experience they'll never forget. Outdoor venues are perfect for forest themes. Use miniature string lights to create a soft glow, and set up colored lanterns to separate areas for dancing, eating and sitting. Chairs and benches with curlicue designs and fantasy themes contribute to the "enchanted" feeling of the night. Keep colors subtle, focusing on deep greens and earth tones to complement the natural backdrop. To turn your forest theme into a fairy tale evening, look for lights designed to blink and twinkle in a starry display. Blue undertones create just the right atmosphere. Wrap lights and decorations over white or wooden archways, and look for seating with a natural "woodsy" appearance. Dramatic colors create contrast with subtle lighting to make the rest of the décor stand out.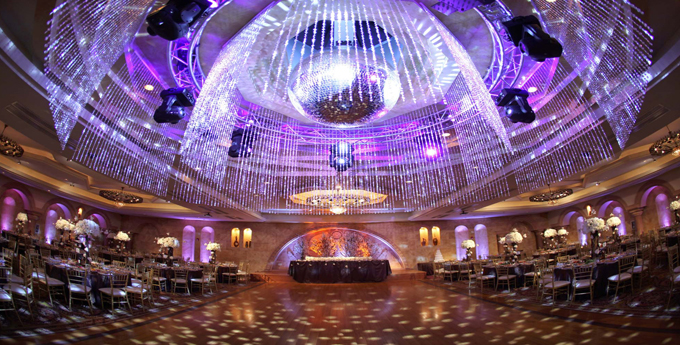 Large indoor venues
are ideal spaces for undersea proms. Stick with predominantly blue decorations and backdrops to give your classmates the feeling they're spending the evening in an underwater kingdom. Use starfish and seashells to decorate tables, and choose pastel lighting to add the look and feel of coral. If the venue happens to have a fish tank as part of their normal décor, consider making it the central focus of your setup.
Star of the Show
- Give your classmates the movie star treatment on prom night with these elegant themes crafted to make every prom guest feel like a celebrity:
Roll out the red carpet and transform the entryway into a "walk of fame" for a Hollywood theme complete with iconic signage and an abundance of gold and red décor.
Pick a big city like New York, Paris or Vegas, and deck the venue out in all the best trappings of your chosen location. The Statue of Liberty and the Eiffel Tower make fun backdrops for prom pictures, or you can enjoy a casino vibe with marquee signs and giant playing cards.
Go sleek and minimal for a black-tie party with simple flower arrangements, crisp white table settings and soft lighting. Black, red, white and yellow are all beautiful color choices for decorations and centerpieces.
Perfect Pop Culture
- Everyone has a favorite movie they wish they could step into each time they watch it, and it's possible to do so on prom night. You have a long list of choices ranging from old classics to recent hits, including
The Great Gatsby, The Wizard of Oz, Cinderella,
Titanic
and
Frozen
. You also have the option of re-creating a classic prom scene from any movie you and your peers enjoy. Animated films and quirky cult classics provide inspiration for unique colors, decorations and outfits. Many of the most popular movies have already been turned into complete theme packages with everything you need to bring your favorite fantasies to life. For the literary buffs in your class, why not try a prom theme based on a treasured series recently enjoyed on the big screen or television?
Harry Potter, The Lord of the Rings
and even
Game of Thrones
all have distinctive details and are a lot of fun to immerse yourself in during planning and on prom night.
Dressing for Success: Matching Outfits to Prom Themes
The last step in pulling off the perfect prom is coordinating outfits with the chosen theme. Give yourself and your classmates plenty of time to shop for dresses, suits and accessories so that no one is left out. Make sure all guests know the most important details of the theme:
Main colors
Style or era to emulate
Essential additions, such as masks or hats
You might want to consider going shopping with a group of friends to help each other pick out the best clothes and accessories. If you're working with a decade theme, you might be able to find appropriate outfits stashed away in the attic among your parents' old belongings. Remember your outfit has to be not only in line with the theme but also comfortable enough to wear all night without regretting your choice of attire. This is an especially important consideration when dressing for a formal or elegant theme because the fancy outfit you loved at the store might not be so great after a couple of hours on the dance floor. Prom planning is a lot of work, but the payoff of taking the time to pay attention to details comes in the form of a night you and your friends will never forget. When you bring a great theme, eye-catching decorations and delicious food together at a venue with enough space for everyone to dance their hearts out, you have just the right atmosphere for creating lifelong memories. As you plan your prom theme and work out the specifics with the prom committee, remember the night is all about fun. Focus on making sure all attendees can have an enjoyable and safe evening, and don't forget to take a lot of pictures and videos so that you can look back on your favorite moments and experience the excitement all over again.