Planning the reception can be the most enjoyable part of preparing for your wedding. Choosing the menu, the linens, the flowers for the table, and the seating charts is a great way for the happy couple to express their individuality and to honor the friends and family who are poised to celebrate their big day.
However, the cost of the reception can be a sizeable portion of the couple's overall budget, so care needs to be taken with all aspects of planning. Working closely with a wedding planner is crucial to maintaining the budget and ensuring that every aspect of the reception goes off without a hitch, and the planner should also be a great source of information about various types of receptions and the costs involved in each.
When you're planning your wedding reception, one detail that requires careful consideration is the service style that you'll use for the reception dinner. Some couples decide upon a sit-down meal, with a menu and full table service. Others choose a buffet-style service with a wide range of choices for everyone.
If it's time to begin thinking about which service style is right for your reception, consider some of these tips to help you decide, and give your guests the time of their lives.
Table Service
Table service is one of the most popular choices for large gatherings, including wedding receptions. It's a stylish and elegant way to serve a meal to your guests in a restaurant-type setting. Guests typically order from a pre-determined menu, and servers take care of everything, including drinks.
For a large reception, this style of service can be extremely beneficial. Depending on the size of your guest list, a set menu can be less expensive than other service options, and less food will go to waste. Guests are seated throughout the meal, which can prevent the crowding and confusion that might occur during other types of meal service. Guests also enjoy the formal feel to the dinner, and for your friends or family who may not be able to dine out very often, a sit-down meal at your reception could be the most elegant evening they'll have all year.
On the other hand, table service has its drawbacks. Guests are restricted to their tables, which means the newlywed couple might not have the opportunity to socialize during the meal. If there are any issues with the service staff, your guests might not receive the attention they need during the dinner. Lastly, if the dinner portion of the reception goes for too long, guests may get tired of sitting and leave, which means they'll miss the dancing and fun that comes later.
Buffet Service
Buffet service is a great choice for wedding receptions, but it might not be right for everyone. During a buffet service, your catering staff will offer various types of food and your guests will serve themselves.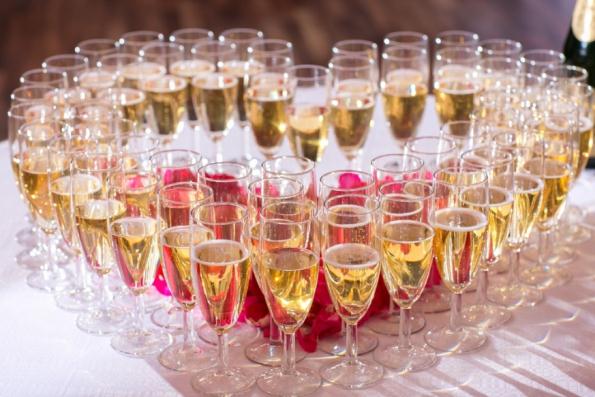 This service option is wonderful for large gatherings and is a little less formal than a table-service reception. Guests can mingle with each other and with the bride and groom, which allows everyone to feel as if they've gotten enough time with all of the people who attend. The variety of choices is much greater than those on a set menu, which is perfect for guests who have dietary restrictions or for children in attendance.
The biggest downside to a buffet service is the cost. More food choices means more money, and there's no escaping that fact. However, with a buffet service at your reception you will save money on wait staff and potentially on linens and tableware, as well. Another drawback to a buffet is the lines and crowds. You can eliminate this problem by asking guests to approach the buffet a few at a time, or by creating individual stations for the various types of entrees that you're serving.
Family-Style Service
Sandwiched somewhere between menu service and buffet, family-style service is a great option for any type of reception. This type of service is rapidly growing in popularity because it has the benefit of offering guests the freedom of a buffet with the camaraderie that comes with gathering at a table.
A family-style service simply means that wait staff will serve each table a variety of entree and side dishes in large bowls or on platters. The guests can then pass the dishes around the table with each person taking what they'd like. So in terms of individual meal options, family-style offers more flexibility and choice than table service.
Reminiscent of family holiday dinners, family-style service is a great way for guests to feel connected and for them to have as little or as much as they want of the various foods while remaining at the table. No matter how formal or extravagant your affair, this service style engenders a sense of casual intimacy your guests will appreciate.
Whatever service style you choose for your reception, make sure it's something that suits the taste of you and your betrothed. Consider your guests and their likes and dislikes carefully, but remember that this is ultimately your party and you need to be happy with the results. Once that happens, you can sit back and celebrate like every newly wedded couple should.