Los Angeles is sunny almost all year, but summertime weddings are especially beautiful because the skies are clear and people are in a relaxed mood without the stresses that can fill other seasons. If you're planning ahead for a wedding next summer, or you're looking for a
banquet hall in Los Angeles
or Glendale CA, that's available within the coming months, here's a guide to fabulous locations that will help you make the most of what a summer wedding has to offer.
Celebrate With Country Elegance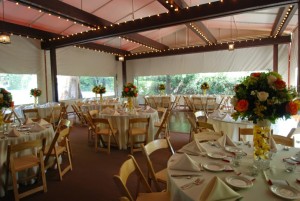 Offering all the delights but none of the hassle of a far-off destination venue,
Middle Ranch
is a breathtaking wide-open space nestled in the Angeles National Forest just minutes from the heart of the San Gabriel Valley and the cities of Pasadena and Burbank, as well as Santa Clarita. This 650-acre equestrian training center features lush green lawns, sweeping views, and a simply unparalleled setting for your summer wedding. Whether you imagine your day a little bit country or all-out elegant, Anoush's creative staff will make your vision come to life. You might choose to exchange vows on the lawn and then retreat for cocktails and appetizers to the patio or into the lodge's reception room with its massive stone fireplace. Lunch or dinner for up to 150 guests can be served outdoors on the patio or inside the lodge. As Middle Ranch's exclusive catering partner, Anoush will provide a meal to match the ambiance whether you want an informal, relaxed buffet, or fine plated service. Available only from June through mid-October to take advantage of the season's perfect weather, Middle Ranch hosts only one event per day to give you all the time you need to customize the location and ensure your guests full access to the stunning grounds.
Celebrate Under the Open Sky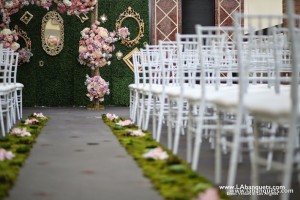 The Patio at Brandview is our newest venue, designed to provide a contemporary, upscale experience that's the epitome of the Southern California lifestyle. This spacious rooftop deck can accommodate 100 guests for an elegant ceremony and reception whether under the warm sun or beneath a twinkling canopy of stars. If your plans include a larger number of guests, consider hosting dinner in the adjacent
Brandview Ballroom in Glendale CA
, and reserving the Patio for cocktails or for quiet conversation and hookah. The Patio's fountains add soft ambiance to the background, but you could also decide to include musicians or a DJ. Located at the historic art deco-inspired Huntley-Evans building in downtown Glendale, the Patio is a unique and tranquil setting convenient to everything yet high above the city. The space features a bar and can be arranged with comfortable lounge seating. There's even a fire element to warm any late-evening breeze. The Patio at Brandview offers use of a fully outfitted suite for pre-ceremony dressing or mid-reception touch ups for the bride and her party. There's also Wi-Fi, a state of the art sound system, and convenient valet parking for your guests. As at all of our locations, Anoush catering will complement your special day. Anoush Signature bartenders will delight with the flair of their service, and will be happy to create a unique cocktail for the occasion. We offer
catering in Glendale CA
and through Los Angeles.
Bring Summer Inside to a Luxurious Ballroom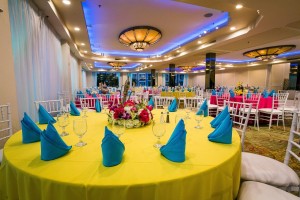 If you're looking for a spacious indoor facility with room to seat 250 to 550 guests, one of our luxury ballrooms will certainly be exactly what you've been searching for. Opulent décor and attention to detail are the hallmarks of the Brandview, Glenoaks, and Galleria Ballrooms in Glendale, and the Le Foyer Ballroom in North Hollywood. Each has been designed to capture the spirit of old-world European elegance, yet with every modern amenity. With the assistance of our creative staff, all the beauty of summer can be expressed indoors against the backdrop of these ballrooms' stunning architecture, with lushly blooming flowers and a menu created to highlight the fresh flavors of the season. No detail will be overlooked in capturing the special feeling that summer brings. The Brandview, Glenoaks, Galleria, and Le Foyer Ballrooms are complete with capacious dance floors, full audiovisual capabilities, Wi-Fi, and state-of-the-art lighting that can be tailored to suit the mood as your reception progresses from cocktails, through dinner, and on to dancing. Each of the locations also offers convenient valet parking. This is the perfect time to book your summer 2016 wedding to assure the date of your choice. If you're hoping to be a 2015 summer bride, we'd be delighted to see if we can accommodate you, whether for a large wedding or for a more intimate celebration in one of several beautiful rooms.