Every business has its special jargon. Since you may never have arranged for a catering service in Glendale CA or a catered event before, here's a list of terms that you'll find useful in planning your event.
American service: Most common type, with food portioned and plated in the kitchen and served to seated guests.
Ballet service: Elegant style of synchronized meal service, with several tables served at one time as a line of servers (one per guest for the tables to be served) enters with plated food and encircles each table, placing the plates in front of each guest simultaneously.
The same routine is followed when plates are removed. Also called snake service for the sinuous line the servers form, this style is beautiful and quiet, but personnel requirements can add substantially to labor costs.
BEO/CEO: "Banquet event order" and "catering event order." Your venue or caterer will use one of these terms to refer to the contract that details everything they are providing for your event, including specifics and costs of menu, bar, style of service, timing of dinner courses, kitchen and wait staff, room and table setup, linen colors, lighting and AV requirements, parking, special instructions, and so on.
Buffet service: Guests serve themselves (sometimes with a waitperson's help) from a selection arrayed on one or more buffet tables. A multitude of buffet tables serving different items are called stations, for example, a sushi station, a pasta station, a dessert station, etc.
Corkage: Fee for serving alcoholic beverages that you bring into the facility. Think of it as a BYOB charge for the costs of labor and providing glasses, ice, mixers, etc. Los Angeles–area corkage fees for wine typically start at $10 per bottle and go up from there.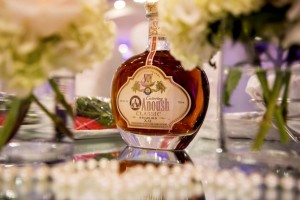 Cover: A place setting for one person. Can also mean the actual number of meals served.
English service: Seated guests serve themselves from platters brought around the table by waiters. You've seen meals served this way on "Downton Abbey."
Family-style service: Guests serve themselves from platters placed on each dining table. A very friendly way to encourage sharing and conversation, as well as being the fastest way of serving large groups.
French or Russian service: Waiters bring platters to the table and place individual servings on each guest's plate.
Guarantee: Number of guests you expect and are required to pay for whether they show up or not. You will provide this number a specified number of days before your event and can add to it sometimes as late as the day before the event, but you cannot subtract from it. The banquet hall in Glendale CA or caterer will typically prepare 5 percent more food than your guarantee calls for, and if that food is served, it will be billed after the event.
Intermezzo: A palate cleanser of sorbet served after the appetizers and before the main course.
Overset: Number of places the venue will set over your guarantee to accommodate last-minute guests or changes in seating arrangements. It's easier to remove a place setting somewhere than to add an eighth setting and chair to a table you've set for seven.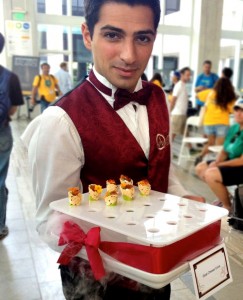 Passed hors d'oeuvres: Servers pass through the reception area offering hors d'oeuvres on trays. Sometimes called butler service. Convenient for guests, this style of service also controls consumption and is a way of avoiding the amount of food that can be wasted with self-service hors d'oeuvres displays.
Plus-plus: Refers to tax and service charge (see below) not included in the per-meal pricing. In Los Angeles County, the plus-plus will add anywhere from 27 percent to 31 percent to the total catering cost.
Pre-set: Food set on dining tables before guests are seated, typically the salad or cold appetizer.
Rentals: Any items the venue or caterer doesn't have on hand. May include specialty dinnerware, linens, dining chairs, AV equipment, dance floors, lighting, and so on. Because they have relationships with suppliers, it is usually easier and can be more cost-effective to have the venue or caterer arrange these rentals for you.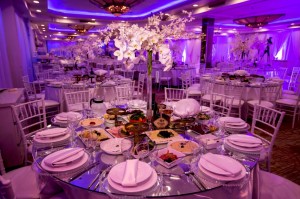 Seventy-two-inch round: Banquet table that can seat 13 people. Seventy-two inches is the diameter of the table.
Sixty-inch round: The standard banquet table. It accommodates eight people comfortably and can seat 10 elbow-to-elbow. Sixty inches is the diameter of the table.
Tasting: Opportunity for the host and one or more others to sample a selected variety of dishes before finalizing the menu. Usually three options for each course. This is where you would make your preferences known if you like the salmon but not the sauce, want currants instead of cranberries in the salad, or want to swap the rice for potatoes.
Caterers and banquet managers aim to please; a special request is never out of line. Just make sure every alteration of a standard recipe is noted in your contract, along with any additions or subtractions it causes to the price of the meals.
Vegetarian option: Well-prepared caterers and venues will have a certain number of vegetarian meals available for guests who have not made their preference known in advance. These are not necessarily vegan, however, so be specific if this may be an issue.
Vendor meals: Meals served to any outside staff working at your event, such as band members, the photographer, and anyone else you have hired to be there who is not an employee of the venue. It is customary and courteous to provide meals for these hard-working people, but not necessary to serve the same meal as you are serving to your guests. If desired, arrangements can be made to serve vendor meals in an area apart from your event space.
Well drinks: Alcoholic drinks made with whatever liquors the venue routinely serves. As opposed to "call" drinks, which are made with brands you specify by name.