Your best friend is expecting a baby and you want to throw her the best shower ever! Where to have it? Whether it's going to be a traditional all-female affair, or a "new traditional" party with the guys invited, you want a location that's private, gracious, has delicious baby shower food and makes everything easy for you and very special for your guests. Here are some wonderful choices for
banquet halls in Glendale CA
and the Los Angeles area.
If the Mom-to-Be Is Glamorous…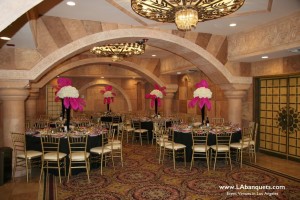 She'll adore being treated to a shower at
Le Foyer Lounge in North Hollywood
. The ambiance is pure Old Hollywood, with lavish ornamental details, tiled stone walls, spectacular carved arches, and a gently bubbling fountain. Le Foyer Lounge accommodates up to 70 guests and can be arranged with round dining tables or one long table down the center of the room. The cozy bar can be set up for cocktails, or you can offer tray passed service. The front of the room offers space for a stage if you like, which is the ideal spot for opening gifts so everyone can see.
If the Mom-to-Be Is a True Californian…
She'll revel in the sunshine at a shower held on the open-air
Patio at Brandview in Glendale
. Created to take advantage of our year-round great weather, the Patio can accommodate up to 100 guests for a fresh and contemporary event under the clear blue sky. Tables can be arranged any way you'd like them, and there's also space for a comfy lounge area. The Patio's bar can be set up for cocktails or used as an ice cream station for sweet treats. All of these great venues offer the finest cuisine prepared by Anoush master chefs, and meals can be served family style, plated, or at buffet stations. What's more, the Anoush Signature bartending staff would be happy to create a special cocktail or mocktail to celebrate the lady of the hour. Oh… and did we mention that all of the locations have valet parking so no one has to schlep packages across a parking lot?
If the Mom-to-Be Is a Home Body…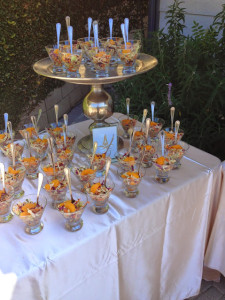 If you've been thinking about hosting the shower in your own home, absolutely talk to Anoush about destination
catering in Glendale CA
and throughout Los Angeles! Why spend all your time at the grocery store and cooking when you'd rather be selecting party favors, decorating, and doing all the fun stuff? Anoush can prepare tantalizing appetizers or full-course meals exactly the way you'd like them, using only the freshest and best ingredients. We're also happy to oblige vegetarian, vegan, gluten-free, and other special requests.
If the Mom-to-Be Wants to Mix Things Up…
A "blessingway"
focused on the mother-to-be rather than the baby. Adapted from a Navajo ritual of nurturing and empowerment, blessingways can be elaborate female bonding ceremonies or just gatherings with gifts to pamper the expectant mother, like gift certificates for a pre-natal massage, a spa day, a manicurist to come to her home, or a promise to bring dinner every Sunday for a month after the baby is born.
A "sprinkle"
instead of full-blown shower for a second child. A second child is no less deserving of celebrating, but parents who have already had a child usually have all of the big-ticket items already. Sprinkles, then, are for small things that probably have worn out their usefulness, or are for a second child of a different gender than the first.
A "grandparents' shower"
for honoring first time grandparents-to-be and gifting them with items that will come in handy when they're babysitting, like a portable crib, a baby monitor, a high chair, a stroller, or a stash of tiny towels and baby wipes.
A "beer and diapers"
party for the father-to-be. Usually held on the same day that the mom-to-be is being feted by her friends, admission to these all-male showers requires only a gift of diapers and the willingness to share parenting advice for the man about to face it for the first time. Why should the women have all the fun?