Whimsical, romantic, fresh, and fun, these wedding trends were great before everyone started following them. That's the thing about trends. They expire. From what we've seen and heard, these have passed their "sell by" dates.
Mason Jars
We still love them for homemade jam, but they've had their day at weddings as drinking glasses and containers for flowers. Sure, it's an adorable idea. You couldn't find anything more basic and down to earth. But really, how many urban brides ever even saw a Mason jar before they started showing up tied with gingham bows and filled with sunflowers?
If you've just registered for Waterford crystal, why would you serve the wedding punch in something made to preserve three-bean salad?
Burlap and Twine
They go right along with the Mason jars. So rustic you could hear the cows mooing in the field over yonder. They're homey and sturdy for the uses they were meant for, but for table runners and pew bows? Plus, burlap catches on things and it, um, smells.
Chalkboard Signs
These will always be good for listing restaurant specials. They just might have had it, though, as the wedding medium of choice for announcing seating arrangements, cake flavors, or the way to the dance floor.
Signs in General, Now That We Think of It
With chalkboards available in such a range of sizes — and if not chalkboards, then all those amazing type fonts printed on something else — brides began labeling everything in sight. For thousands of years people have known which one was the bride and which one was the groom without signs on the back of their chairs. A table filled with cupcakes doesn't need a sign that says "Please Take a Cupcake, Love Mary and John."
Favors That Are No Favor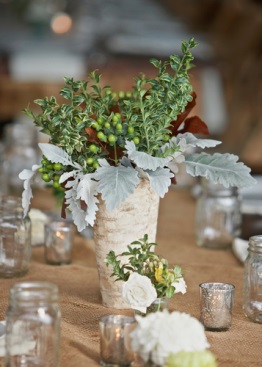 Who is the bride who spends hours burning her new monogram onto birch bark coasters or painting her and her groom's names and wedding date onto salt and pepper shakers to wrap in tulle and give as favors? What did she do when she came home from someone else's wedding with a keychain that linked two names in a heart and neither one of the names was her own? Tossed, it, right? That's what people do with a gift that has nothing to do with themselves and everything to do with the people who gave it to them.
Over-Themed Receptions
The Great Gatsby had a run of it in recent years, and "shabby chic," whether rural or Victorian, has reigned over many a wedding. These are positively traditional compared to the receptions that are designed to look like pirate boats or Hobbit holes or a dining hall at Hogwart's.
When did weddings start having themes anyway? "Getting married" was the theme of every wedding in the world until suddenly brides had to declare whether they were going "Southern chic," "rustic elegance," or "steampunk but with a twist." Getting married is still a good theme. You'll be much happier when you look at your wedding pictures in 20 years.
Naming Tables After Things That Mean Something to the Couple
Tables named for the restaurants you frequent, the places you've visited, or the pets you've owned might be charming to you, but they're going to confuse the heck out of everyone else. Watch Grandma wander past Yosemite and Solvang as she tries to find Cayucos. Numbers are must simpler for everyone involved.
Rude Things
Grooms who think it's funny to write "Help Me" on the soles of his shoes so people can see his message when he's kneeling at the altar. Smooshing cake into your new husband's or wife's face. Aren't we all grownups here?
Anything Twee
You know what twee is. It's something achingly cute, cloyingly sweet, obnoxiously fussy, determinedly just so precious. Winnie the Pooh is twee, but in a good way. An adult woman using a little girl voice is not twee in a good way. At weddings, not twee in a good way is decorating things that don't need decorating. For example: whittling the potatoes into heart shapes, obsessively neurotic menu card descriptions of the wine that's being served or the provenance of the kale in the salad, or signs telling ceremony guests to "Pick a Seat, Not a Side." Double deduction if you do any of these things ironically.