Are you looking for the perfect
event venue in Glendale CA
for a fundraising event that's stylish but won't break the bank? Whether you're planning an elegant gala or a playful party, our four ballrooms accommodating from 250 to 550 guests can be customized to provide just the ambiance you want. And as part of Anoush's commitment to the community, we'll work with you and do everything we can to assist you in creating a great event that will make money for your organization. Groups we've helped include Djanai's Angels, Inclusion Clubhouse, Salvation Army, CicLAvia, LA2DC, Facing History and Ourselves, and Loyola Law School, among others. Read on for some of the great venues where you can hold your next fundraising event.
For an Extravagant Fundraising Gala
The
Brandview Ballroom in Glendale CA
is the area's premier banquet facility. Offering a spacious 13,000 square feet of style and sophistication, it can more than comfortably host up to 550 guests. Located in the historic art deco-inspired Huntley-Evans building built in 1921, the ballroom has been completely renovated for modern convenience yet retains elegant stylistic details reminiscent of a bygone era. Your guests will enter via a dramatic spiral staircase enhanced with gold-leafed railings and set off by a two-story crystal chandelier that embodies the term "grand entrance." The ballroom itself is graced with Italian onyx chandeliers, tufted walls, and floor-to-ceiling windows. The space is completely customizable with seating and dance floor arrangements to match your wishes, and in addition to the Brandview's stunning bar, you can designate part of the room as a comfortable cocktail lounge and silent auction space. Adjacent is the outdoor Brandview Patio, which you may want to include in your pre-dinner hour for a more intimate VIP reception.
For a Fundraiser With Hollywood Glamour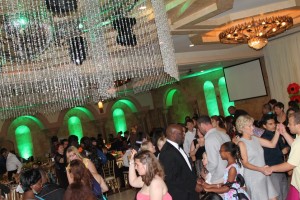 The
Le Foyer Ballroom
in North Hollywood is today's answer to the luxury of old Hollywood. With 5,500 square feet of exquisite architectural detail, it can accommodate up to 550 guests who will enter through a foyer of imported Italian marble that features a breathtaking 25-foot fountain. The ballroom's sixteen arches are highlighted by a dazzling chandelier, and the room can be arranged in any of a number of ways to create the setting that suits you. Once dinner has been served, our lighting options can instantly transform your event into a lively, nightclub-inspired dance fest. Guests who would like some fresh air can stroll out onto the patio, where you can serve cocktails and even request a hookah bar if you'd like.
For an Event With Old World Elegance
The
Glenoaks Ballroom
in Glendale is extravagantly appointed with classic architecture, handcrafted woodwork, high ceilings, imported marble, mirrored walls, and a 60-foot crystal chandelier that will take your event to the next level of elegance. With 4,500 square feet to accommodate up to 450 people, this sophisticated ballroom imparts the allure of yesteryear from the moment your guests step into the red-carpeted entry. The Glenoaks' open floor plan allows for your choice of seating options on both sides of the gleaming white dance floor, and guests of honor can take their places at the head of the room in front of a crystal-encrusted backdrop. The ballroom also offers a generous stage for musical entertainment, a live auction, and awards presentations. All of our
banquet halls in Glendale CA
 are complete with capacious dance floors, full audiovisual capabilities, Wi-Fi, and state-of-the-art lighting that can be tailored to suit the mood as your event progresses from cocktails, through dinner and on to presentations and entertainment. Each of the locations also offers convenient valet parking.
Anoush catering
is another reason to choose one of these impressive venues. Our master chefs delight in creating delectable fare, using only the finest and freshest ingredients. Skilled staff will pamper your guests whether you choose bountiful family-style dining or fine plated service. Anoush bartenders will add special flair with signature cocktails. And whichever venue you select, you'll have at your disposal a talented and thoughtful L.A. Banquets event planner to work with you and make sure your fundraising event furthers your cause and is talked about for years!